'Work it Out Wombats!' is coming to PBS Kids
Category:
Television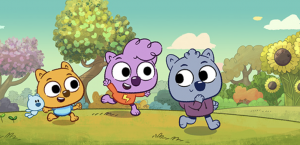 Work it out Wombats! is a new animated series for kids ages 3-6  coming to PBS Kids February 6, 2023. The show focuses on Malik, Zadie, and Zeke, three marsupial siblings who live in a treehouse with their grandmother, Super, who happens to be the unofficial mayor.
The series teaches kids concepts that will help them solve problems in their lives.
"The Wombats are all about exploring the world around them and, much like preschoolers, their curiosity and love of adventure know no bounds," said Sara DeWitt, Senior Vice President and General Manager, PBS KIDS. "Computational thinking is a way of approaching problems in strategic ways, helping young children respond and adapt to the world around them. We're excited for viewers to explore these foundational skills and mindsets while having fun with their new marsupial friends."
The setting for the show is Treeborhood, a huge treehouse with plenty of fun amenitities like gondolas, rope swings and even secret passageways. Along with the trio and their grandmother, moose, kangaroos, iguanas, snakes, fish, and eagles combine to bring to light several ways of thinking and solving problems.
"Malik, Zadie and Zeke are passionate about their goals, but they don't always know the best way to go about meeting them," said Marcy Gunther and Marisa Wolsky, executive producers, GBH Kids. "But in every story, we see the Wombats using computational thinking, a powerful toolkit, to work it out."
The three siblings are full of curiosity and energy. They each have a different personality, as do all siblings. Malik is thoughtful and considerate. Zadie is like a whirling dervish spewing one idea after another. And the youngest, Zeke, loves to explore and to get cuddles.
"Work It Out Wombats! strikes a perfect balance of telling stories for preschoolers that are educational, fun and engaging. Bringing an exciting world filled with diverse characters to life has been incredibly empowering for our artists and technical talent," said Luis Lopez, executive producer, Pipeline Studios.
Each episode includes two 11-minute stories, accompanied by a 90-second music video, featuring the Wombats as they demonstrate their computational thinking skills, learning as they go.
About the Author
Francine Brokaw has been covering all aspects of the entertainment industry for over 25 years. She also writes about products and travel. She has been published in national and international newspapers and magazines as well as Internet websites. She has written her own book, Beyond the Red Carpet The World of Entertainment Journalists, is the entertainment correspondent for Good Day Orange County, and has her own TV show, Beyond the Red Carpet, on Village Television in Orange County. She is a longstanding member of the Television Critics Association and is accredited by the MPAA. Follow her on Twitter.