'Woman Times Seven' on Blu-ray
Category:
Blu-ray's and DVD's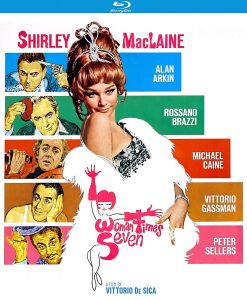 Shirley MacLaine was nominated for a Golden Globe for her performances in the 1967 film Woman Times Seven. This film shows MacLaine's strength as an actor as she plays seven very different women in this haphazard and fragmented film.
MacLaine takes on the roles of seven women each dealing with personal crises. First she is Paulette, a newly-widowed woman at her husband's funeral grieving while being wooed by a friend (Peter Sellers).
In another segment of this film MacLaine is Maria Teresa, a woman who just discovered her husband is cheating on her with her friend. What should she do? She contemplates becoming a prostitute for a night to teach him a lesson. Strange lesson.
As Linda, MacLaine is a translator who seems to be a common and straight woman, but she has another side of her personality. And as Edith she is a sweet wife who goes out of her way to make her husband notice her. In another segment she is a rich, spoiled wife obsessed with a one of a kind dress.
As Marie she and her lover (Alan Arkin) make a suicide pact, and when MacLaine portrays Jeanne, she is a woman being followed by a handsome man (Michael Caine) with an ulterior motive.
These are the kinds of women portrayed in the seven segments of this film. While it might not be an appealing movie for many viewers, it will entertain fans of the actor as she moves from one persona to another and displays her acting chomps going from highs to lows. Her range as an actor is on display in this movie.
Woman Times Seven is not rated however due to subject matters, it is not suitable for young viewers.
About the Author
Francine Brokaw has been covering all aspects of the entertainment industry for over 25 years. She also writes about products and travel. She has been published in national and international newspapers and magazines as well as Internet websites. She has written her own book, Beyond the Red Carpet The World of Entertainment Journalists, from Sourced Media Books, is the entertainment correspondent for Good Day Orange County, and has her own TV show, Beyond the Red Carpet, on Village Television in Orange County. Follow her on Twitter.