Winnie the Pooh: Springtime With Roo on Blu-ray
Category:
Blu-ray's and DVD's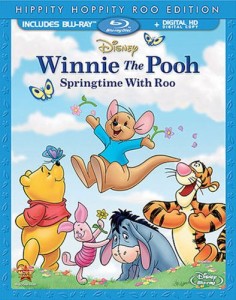 Winnie the Pooh" Springtime With Roo is an adorable movie for the entire family. Set in the Hundred Acre Wood, as all Pooh stories are, this story focuses on little Roo who is excited to celebrate his second Easter with the gang. Everyone is looking forward to the "Eastery" egg hunt and all things "Eastery", except Rabbit.
For some reason, Rabbit is not in the Easter mood. Instead, he organizes "Spring Kleening Day" and doles out chores for everyone. Why is Rabbit being so obstinate?
As the story continues, and with a nod to Charles Dickens' "A Christmas Carol," viewers see why Rabbit is behaving the way he is. Because of his overbearing attitude the previous Easter, he felt as though he was not wanted, so, this year he aims to forget Easter all together. Will the gang – and Rabbit – finally have the fun celebration they have been anticipating, or will Rabbit spoil things again?
There are several entertaining little songs throughout the film, and one endearing song in particular, sung by little Roo. "The fun never ends when you give to your friends and you share."
Springtime With Roo is a delightful little story with the endearing characters we all know and love. For some reason, however, Owl is missing from this movie. But the rest of the gang is in good spirits and filled with optimism and cheer, with the exception, of course, of Rabbit.
Jimmy Bennett supplied the voice of Roo in this 2004 movie. The actor is much older now, however when he was young he voiced many animated characters, including Roo again in the 2005 Pooh's Heffalump Halloween Movie, and Buddha in the 2008 Snow Buddies film. As a child, he brought a sweet quality to the character of Roo and in this particular film Roo will touch the hearts of all viewers. This adorable little fellow is filled with anticipation, enjoyment, and love. That is what he gives to everyone in the Hundred Acre Wood, and in the end, that is what he gets back.
Winnie the Pooh: Springtime With Roo is a movie families will watch together over and over again and it will become an annual Springtime/Easter viewing event in many homes. The bonus on this edition is a little "get up and dance" feature that will have viewers off their chairs dancing and moving to the songs. Winnie the Pooh: Springtime With Roo is rated G for everyone.
 About the Author
Francine Brokaw has been covering all aspects of the entertainment business for 20 years. She also writes about technology and has been a travel writer for the past 12 years. She has been published in national and international newspapers and magazines as well as internet websites. She has written her own book, Beyond the Red Carpet The World of Entertainment Journalists, from Sourced Media Books.
Follow her on Twitter
Like her on Facebook