'Will Success Spoil Rock Hunter' stars Tony Randall
Category:
Blu-ray's and DVD's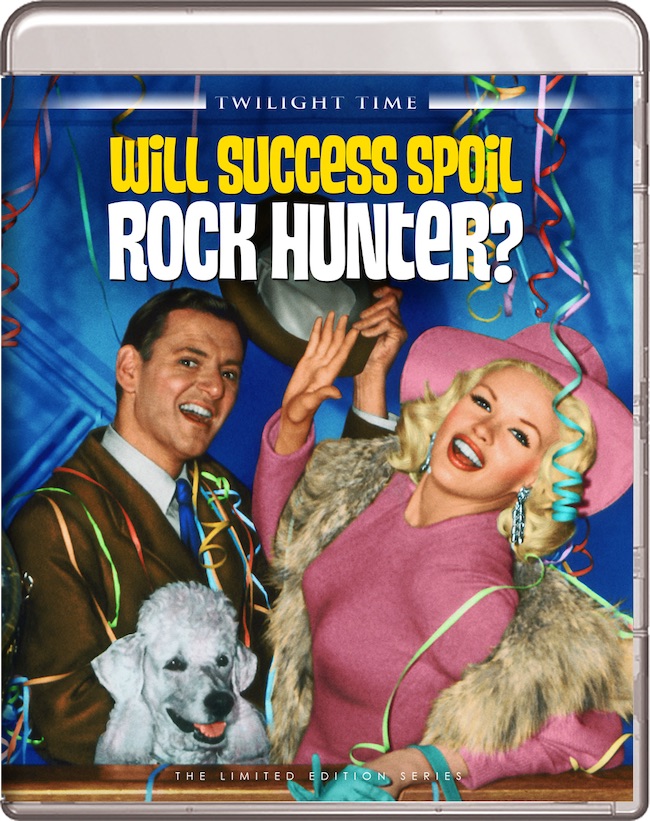 Will Success Spoil Rock Hunter? is a cute 1957 film starring Tony Randall and Jayne Mansfield. Usually Randall is the sidekick but in this film he's the leading man, in more ways than one.
Randall stars as Rockwell P. Hunter, aka Rock Hunter, and later aka Lover Doll. He's an advertising man on Madison Avenue and if he doesn't lock down a great campaign for his lipstick client, he'll be out of a job.
I just happens that Rita Marlowe (Mansfield), the hot Hollywood blonde, is in NYC to get away from her ex-boyfriend Bobo (Mickey Hargitay). Rock sets his sights on getting Rita to endorse the lipstick. She has the most famous lips in the world, among other attributes. They meet by a fluke and Rita agrees to help him if he helps her. What she wants in return is for him to play her "Lover Doll" and escort her around town while behaving as if they were madly in love. It sounds like a good trade. He can keep his job and she will make Bobo jealous so it's a win-win for both of them.
But when Rock's fiancé Jenny (Betsy Drake) sees him being linked publically with the blonde bombshell, her jealousy takes over. How can a plain woman with a brain compete against the famous platinum blonde top-heavy actress?
Soon women around the city are hounding Rock. They want to see this "Lover Doll" who has captured the heart of their screen idol. He becomes the most sought-after man in the city. After all, he won the heart of Rita Marlowe. And Rita is actually falling for him in her own way.
This is a bit of a farce yet it has some very entertaining scenes and Randall is hysterical as Lover Doll. Then when he manages to lock down Rita for the ad campaign, his success in his profession skyrockets.
Will Success Spoil Rock Hunter? is definitely a fun film that flashes back to the sights and sounds of the late 1950s. Mansfield is adorable as the smart cookie who comes up with the plan and although she is a hot Hollywood star, she has down-home feelings. And of course Randall is top notch, as always.
The film is not rated. It is not for kids but teens and above will find this farcical comedy a lighthearted delight. Check out this Twilight Time limited edition Blu-ray.
About the Author
Francine Brokaw has been covering all aspects of the entertainment industry for over 25 years. She also writes about products and travel. She has been published in national and international newspapers and magazines as well as Internet websites. She has written her own book, Beyond the Red Carpet The World of Entertainment Journalists, from Sourced Media Books, is the entertainment correspondent for Good Day Orange County, and has her own TV show, Beyond the Red Carpet, on Village Television in Orange County.
Follow her on Twitter