'William Howard Taft' by Jeffrey Rosen – Book Review
Category:
Books and Music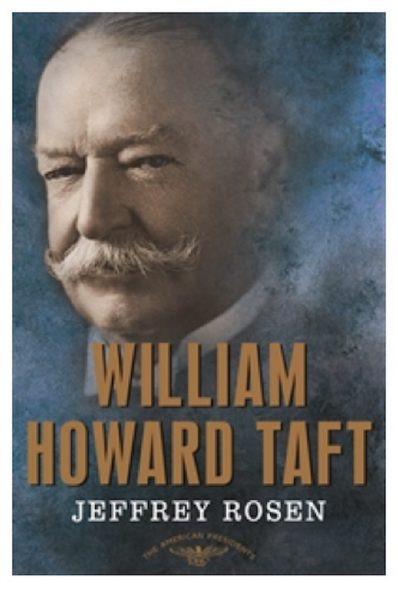 What do you know about William Howard Taft other than the fact he was a President of the United States? Most of us know very little, unless we happen to be historians. This new book, William Howard Taft, is an interesting look at the man who was our president and also Chief Justice of the Supreme Court.
This is a fast-paced, easy-to-read look at the life of Taft, the man who was our biggest president, topping the scales at one point at 340 pounds. He was a big baby and had weight issues his entire life, but that isn't what we should know about this man. He was a brilliant constitutionalist and dedicated patriot.
Yale educated then earning his law degree from the Cincinnati Law School, Taft had an amazing career even before sitting down in the Oval office. His father was a judge on the Ohio Superior Court where he stood up for the separation of Church and State.
William H. Taft wanted desperately to be on the U.S. Supreme Court. He was the Solicitor General then served on the Sixth Circuit Court for eight years before moving his family to the Philippines where he helped set up the country and their constitution as the civilian governor. His dedication to the people of that country was so intense he turned down the opportunity to serve on the U.S. Supreme Court to conclude his business overseas. Then he became the Secretary of War. His list of credits just kept piling up. But throughout all this time, his heart was always dedicated to the Constitution.
When he became president, he approached that job as a constitutionalist. Other presidents see it as an opportunity to inflict their personal ideas and ideals on the country. But Taft saw it as a way to strengthen the Constitution.
William Howard Taft was an interesting man, and in reading this book his life unfolds page after page. He was responsible for the Supreme Court building we have today. He was our 27th president but so much more. His contributions are widespread. During his presidency he reorganized the government and updated the State Department.
While reading this book, it seems that Taft was not what we today would consider Democrat or Republican. He marched to his own drummer, a drummer that was dedicated to the United States Constitution. He was, at that time, a Republican, but reading about his views, today he would most likely be a compilation of a variety of parties.
This is a quick way to learn about William Howard Taft without having to search through a textbook. This book is easier to read and more interesting than most text books too. He was a fascinating and very intelligent man, and his children all followed in his footsteps with his son Robert becoming a U.S. Senator, his son Charles was mayor of Cincinnati, and his daughter Helen was an American history professor, dean, and president at Bryn Mawr College.
It's a fast read and one that makes a good companion when you're going on an airplane, out to the beach, or just sitting home on a rainy day. James Rosen has done a good job of making the life of William Howard Taft come alive in an interesting way. This is part of The American Presidents series of books.
William Howard Taft
Author: Jeffrey Rosen
Series: The American Presidents
Hardcover: 208 pages
Publisher: Times Books; 1st edition (March 20, 2018)
ISBN-10: 0805069542
ISBN-13: 978-0805069549
About the Reviewer
Francine Brokaw writes about books and entertainment. She has been published in national and international newspapers and magazines as well as Internet websites. She has written her own book, Beyond the Red Carpet The World of Entertainment Journalists, from Sourced Media Books.
Follow her on Twitter