'Wild Bill' on Blu-ray from Twilight Time
Category:
Blu-ray's and DVD's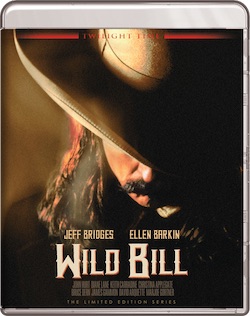 An impressive cast brings the Wild West to the forefront in this 1995 film. Wild Bill stars Jeff Bridges as Wild Bill Hickok, a man with a past and the reputation to make anyone shake in their boots.
In a somewhat disjointed telling of the life of this man, Bill's history and psyche are examined. Flashbacks/dreams are played out in black and white while the current story plays out in color. Bill relocates to Deadwood where he encounters Jack McCall (David Arquette), a young man who bravely announces his intention to kill Bill. Why would this man want to kill Hickok? He tells Bill and the town that Bill treated his mother badly many years ago.
John Hurt plays Bill's friend Charley Prince and Ellen Barken is Calamity Jane, who wants to rekindle her on again/off again relationship with Bill. Keith Carradine is Buffalo Bill Cody, and Diane Lane plays Bill's former lover. Christina Applegate, James Gannon, and Bruce Dern also take part in this star-studded story.
The film is interesting for fans of the Old West, however it is a work of fiction based on many factual incidents and people. Film critics recognized Bridges for his performance and, as usual, he completely embraced the character he portrayed.
Bill has pangs of remorse for his past behavior. He killed too many people and left too many women. This is a time for reflection on his past. To assuage some of his guilt he indulges in opium.
In this film Jack McCall does kill Hickok, however his backstory is definitely fiction. McCall shot Hickok in reality because he was annoyed at the man for kicking him out of a poker game! He had nothing to do with the young boy's mother. As with many incidences in the film, fiction is a little more entertaining than reality.
This new Twilight Time edition includes a booklet comparing the film version of Bill's life to reality. It is an interesting adjunct to the movie.
Wild Bill is rated R for Wild West violence and a sex scene.
About the Author
Francine Brokaw has been covering all aspects of the entertainment industry for over 20 years. She also writes about products and travel. She has been published in national and international newspapers and magazines as well as Internet websites. She has written her own book, Beyond the Red Carpet The World of Entertainment Journalists, from Sourced Media Books.
Follow her on Twitter