'Why Women Kill' is about the length one woman will go in order to finally belong
Category:
Television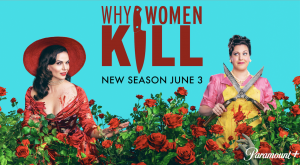 Marc Cherry of Desperate Housewives (ABC 2004 – 2012) fame has created so many addictive yet poignant female-forward black humor shows. His first streaming anthology series, Why Women Kill, debuted on then-CBS All Access in 2019. The premiere season followed three married women living in the same Pasadena mansion in three separate decades and was a jarring reminder of how the times in which we live shape our beliefs, behavior, and expectations.
The sophomore run of Why Women Kill is set in 1949 and follows an envious homemaker who is fed up with her lackluster life and demands a radical overhaul of her social standing. Beauty knocks many doors, but how does a frump recognized merely as 'veterinarian's wife' get what she desires? It is an amusing reminder that life is not fair so you have to play the best game with the cards you're dealt.
Alma Fillcot (Allison Tolman) has always behaved like a mature, respectful adult regardless of what's thrown in her face. All her life she has settled for scraps and crumbs, thanks to her appearance and demeanor. In other words, Alma knows her place and stays in her lane. The only wish in her dull and boring life is to hobnob with highfalutin, fancy ladies of Elysian Park Garden Club. The 'ladies who lunch' certainly live life to the fullest or so it seems.
Take for instance Rita Castillo (Lana Parrilla), a sardonic trophy wife à la Rita Hayworth. While waiting for her 80-year-old cruel and vulgar husband to die, the snarky suburban royalty kills time presiding over the elite Garden Club and dallying with a new aspiring actor. A typical femme fatale, Rita is an accomplished liar and a master manipulator with criminal tendencies.
When Alma discovers her veterinarian husband, Bertram (Nick Frost), has a bizarre hobby, her whole world is turned upside down. Shocked, hurt, and deeply scarred by his betrayal, she realizes that it's about time she put her needs first. She is determined to rub elbows with the local beautiful people no matter what.
Rita is hell-bent on stopping Alma from getting what she yearns for. I wouldn't push her too far, though. You don't know what a nice lady sick and tired of being ignored and overlooked by society might do in order to finally belong. When a repressed woman releases her cooped up anger and frustration in search of power, I guarantee it won't be pretty. You know what they say – "A cornered rat will bite the cat!"
Why Women Kill returns to Paramount+ (an expansion of CBS All Access as you knew it, but with even more content and features) on June 3, 2021.
About the Author
Meg Mimura is a TV critic who actually watches shows zealously in search of thought-provoking and paradigm shifting human drama worth our precious time. She is a member of Television Critics Association. Follow her on Twitter.
COURTESY PHOTO