White Christmas Diamond Anniversary Edition
Category:
Blu-ray's and DVD's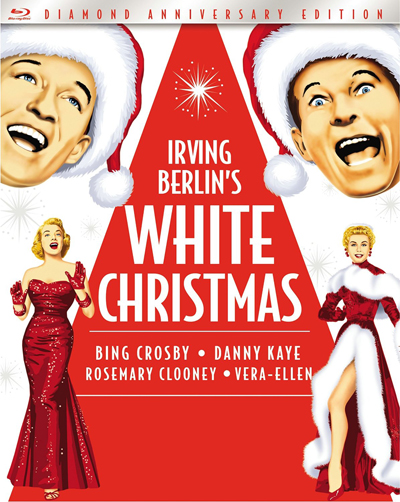 White Christmas is a perennial favorite and an annual must-see in many households. Celebrating the 60th anniversary of this classic movie, the Diamond Anniversary Edition includes some great bonus features. Danny Kaye, Bing Crosby, Vera-Ellen, and Rosemary Clooney star in this timeless and beloved film.
Irving Berlin's White Christmas is a fun-filled film with plenty of singing and dancing. It's the story of two entertainers who met during WWII and continued their friendship and careers together long after the war ended. As a matter of fact, they became one of the most popular acts.
The team gets involved with the sisters of an old army friend. These women are also entertainers. When they all go to Vermont the snow is non-existent which puts the lodge's future in jeopardy. To make an entertaining story short, they put on a show to help the proprietor, who happens to be their old army general.
The story and the music are wonderful, and the bonuses add greatly to this edition. There are five TV appearances with Danny Kaye and Bing Crosby singing holiday songs, one of which is a "virtual" duet with Crosby and Michael Buble from 2012. Hey, with technology they can do almost anything these days! There is a 1976 version of Bing Crosby crooning "White Christmas," a 1948 appearance of Crosby singing "Silent Night," a 1963 jazzy duet with Danny Kaye and Nat King Cole singing "Jingle Bells," and from December 1965 Danny Kaye recites "A Christmas Carol."
There is also a new option to sing-along with the musical tracks with subtitles in case you don't know the words, and new photo galleries. These are the new bonuses created for this special edition. Previously released bonuses also included are featurettes about Danny Kaye, Bing Crosby, and Rosemary Clooney. One of these featurettes takes viewers to Kentucky and the home of Rosemary Clooney, which is now a museum. One looks at how White Christmas was re-imagined for the stage. And the treasured title song itself is the subject of a special featurette. There are stories from behind the scenes of the film, and Bing Crosby's family talks about their memories of him.
What many viewers might find interesting is the featurette about Danny Kaye, who was multi-talented, to put it mildly. There is also a documentary about Assignment Children, from UNICEF. Danny Kaye was the first Goodwill Ambassador for UNICEF, and in honor of this anniversary of the movie, The Danny Kaye and Sylvia Fine Kaye Foundation and Paramount Pictures are contributing a total of $100,000 to the U.S. Fund for UNICEF. For more information on Danny Kaye, click here. (/entertainment/the-best-of-the-danny-kaye-show-on-dvd/)
The Blu-ray combo pack includes a Blu-ray disc of the film with the bonus features, a DVD version of the film and a DVD of most of the bonus features. There is also an amazing Christmas CD with 12 holiday songs from Bing Crosby, Danny Kaye, Rosemary Clooney, Ella Fitzgerald, Peggy Lee, and Judy Garland. Among them are some never-before-released tracks.  
Winter Wonderland – Rosemary Clooney
Deck the Halls/Away in a Manger/O, Little Town of Bethlehem/The First Noel – Bing Crosby
Waltz Around the Christmas Tree – Danny Kaye
Marshmallow World – Bing Crosby & Ella Fitzgerald
The Christmas Song – Rosemary Clooney
Just What I Wanted For Christmas – Bing Crosby
Santa Claus Is Coming To Town – Rosemary Clooney
Jingle Bells – Danny Kaye & Peggy Lee
Rudolph the Red-Nosed Reindeer – Bing Crosby & Judy Garland
Home For The Holidays – Rosemary Clooney
Some Children See Him – Danny Kaye
The Night Before Christmas – Bing Crosby
With a cute story, a talented cast, and songs like "Sisters," "The Best Things Happen While You're Dancing," "Love You Didn't Do Right by Me," and "White Christmas," this is one film that stands the test of time. It's truly a wonderful film for the whole family.
Besides the three-disc Diamond Anniversary Blu-ray Edition set, the film is also available as a Diamond Anniversary Edition two-disc DVD set.
White Christmas is not rated however it is suitable for all ages.
About the Author
Francine Brokaw has been covering all aspects of the entertainment business for 20 years. She also writes about technology and has been a travel writer for the past 12 years. She has been published in national and international newspapers and magazines as well as internet websites. She has written her own book, Beyond the Red Carpet The World of Entertainment Journalists, from Sourced Media Books.
Follow her on Twitter
Like her on Facebook