When Marnie Was There from Studio Ghibli
Category:
Blu-ray's and DVD's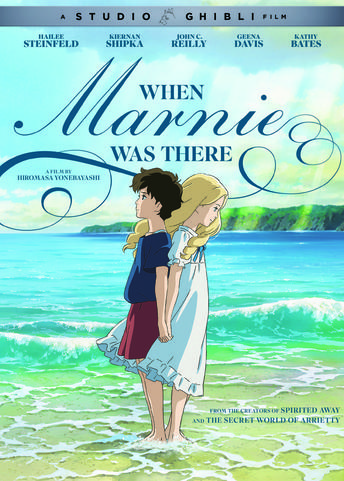 Coming of age is difficult for most kids, but for Anna it is even more miserable. When Marnie Was There is a sweet and sensitive story of Anna and how this young girl transforms from a caterpillar into a butterfly, so to speak.
Anna is a morose twelve-year-old who suffers from asthma. She is a great artist and loses herself in her sketching. Anna is an orphan who has lived with her foster family since she was a little girl. She knows they have her best interest at heart yet they are not her real parents so how could they feel the love for her that real parents would? Conflicted about life and shutting out the world, Anna is quiet and stays to herself.
Anna's foster mother sends her to some relatives in a small coastal town for the summer believing the fresh air will be good for her. There, Anna becomes entranced by an abandoned mansion across the marsh. But it isn't abandoned. She meets Marnie, a young girl who lives there. Marnie and Anna quickly become best friends and they tell each other all their secrets. But what exactly is going on with the mansion? It looks abandoned yet Marnie lives there and Anna even attends a lavish party. How could this be?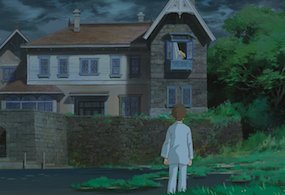 This metaphysical aspect of the film is not the focal point. What comes to be is that Anna learns about her life and her past and through the help of Marnie turns into a happy little girl. She becomes outgoing and friendly, which is the complete opposite of the girl that arrived in this small town at the beginning of the summer.
When new owners move into the mansion, Anna is confronted by the young girl whose family bought the residence. Together they learn about Marnie and what happened in that house. The two girls put the pieces together and with the help of another woman who has lived in the town all of her life, the complete life of Marnie is exposed. Or is it?
The love and devotion between Anna and Marnie comes full circle when all is revealed. The summer proves to be a life-changing time for young Anna who comes to terms with her past and her present.
The combo pack includes a Blu-ray and a DVD as well as some bonus features. Most of the bonuses are the original Japanese features with English subtitles. There is, however, a feature with the American actors discussing the film and their characters.
This is a beautifully animated and amazing film. If you love Studio Ghibli movies this will not disappoint you. Although it is dramatic, heartfelt and sensitive, it leaves viewers feeling happy.
When Marnie Was There is rated PG for thematic elements and smoking. It's a film adults will enjoy along with kids.
About the Author
Francine Brokaw has been covering all aspects of the entertainment business for 20 years. She also writes about technology and has been a travel writer for the past 12 years. She has been published in national and international newspapers and magazines as well as internet websites. She has written her own book, Beyond the Red Carpet The World of Entertainment Journalists, from Sourced Media Books.
Follow her on Twitter