What's Ahead on Episodes Season 3?
Category:
Television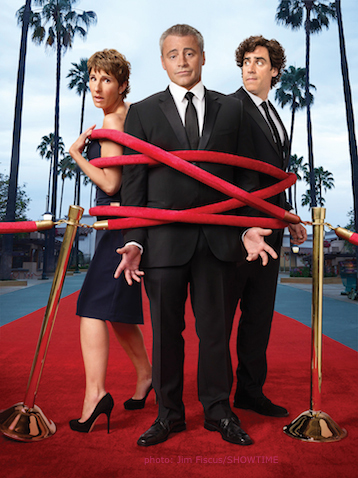 As a journalist I often have perks of the job. One perk is being able to view an entire season of a show before it airs. I just viewed all nine episodes of season three of Episodes, which will begin January 12, 2014 on Showtime. It was a treat and left me wanting more!
Episodes has earned awards and nominations and the endearment of fans and critics. It's a fun, quirky, entertaining series with plenty of laugh-out-loud moments as well as some that have viewers wondering how in the world the writers came up with the zany situations. Season three has some wonderfully entertaining scenes and has each of the characters in relatively whacky situations at one point or another.
Episode 304 (the fourth episode in season three) had me literally laughing out loud for most of the show. It is brilliant, with a cameo by Jay Leno. Episode 305 hit close to home because there is a scene in which Matt and the network heads attend a television critics' cocktail party. I admit that I have attended my share of these parties and the writers did a great job recreating them.
Okay, so what do viewers have to look forward to in season three? First, Merc has been fired and his replacement is a real nut-job. This guy, Castor Sotto (Chris Diamantopoulos), is literally crazy. But no one knows except his psychiatrist. And Carol (Kathleen Rose Perkins) falls into a role she had been playing with Merc – that of sexual object to her boss.
Beverly and Sean (Tamsin Greig and Stephen Mangan) discover that although they have each had other relationships while they were separated, they ultimately belong together. But can they forget the past and start fresh?
Matt (Matt LeBlanc) continues to have sexual relationships even though he professes to be a couple with Jamie (Genevieve O'Reilly), Merc's blind ex-wife. And in this season Matt has a confrontation with his father, his ex-stalker Labia, and his ex-wife.
Morning (Mircea Monroe) has a long-held secret that comes out, and Stoke (Sam Palladio) is moving forward with his career at record speed, to Matt's chagrin. Throughout the season Matt wonders if he is a "has been." Has he peaked or is there another role out there that will launch him into the star stratosphere yet again?
Everyone wants "Pucks" to be cancelled so they can each go onto other projects, hopefully more fulfilling ones. But it manages to stay on the air. As Castor tells the critics, "We're in last place. The good news is we have nowhere to go but up. And yes, I'm aware that's not very good news."
The "F" word runs rampant in this series. Sex, sexual situations as well as sexual discussions also permeate the show, but that is what it's all about. It's strictly for adults. It's a madcap, hilarious, entertaining, and, yes I will use the word, endearing series. All I have left to say is I cannot wait for season four!
Season three of Episodes premiers January 12, 2014 on Showtime at 10:30 pm ET/PT.
About the Author
Francine Brokaw has been covering all aspects of the entertainment business for 20 years. She also writes about technology and has been a travel writer for the past 12 years. She has been published in national and international newspapers and magazines as well as Internet websites. She has written her own book, Beyond the Red Carpet: The World of Entertainment Journalists, from Sourced Media Books.
Follow her on Twitter
Like her on Facebook