'WeCrashed' -When the era's preeminent unicorn turns into another 'winning at all costs' corrupt swine
Category:
Television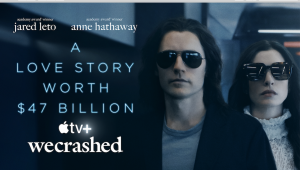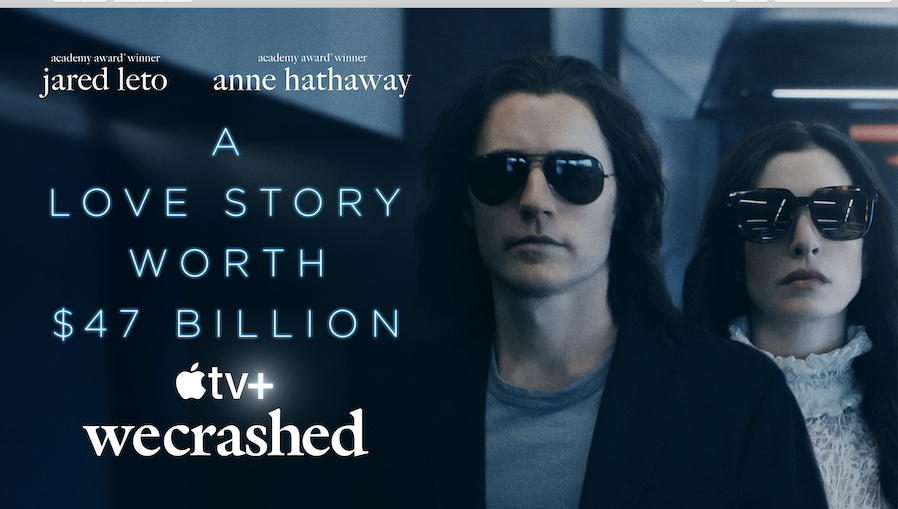 Arrogance has run amok lately. True crime stories of infamous dead unicorns have been made into TV shows one after another; starting with the notorious bad boy Travis Kalanick in Super Pumped: The Battle for Uber (Showtime), then Palo Alto Marie Curie Elizabeth Holmes in The Dropout (Hulu), and soon a new limited series from Apple TV+ will follow.
Based on the Wondery podcast WeCrashed: The Rise and Fall of WeWork, the eight-episode limited series WeCrashed chronicles the rise of the era's preeminent unicorn Adam Neumann (Jared Leto) and the most spectacular flameout in recent corporate history. It takes you on an emotional rollercoaster ride through the lens of WeWork cofounder/wife Rebekah Paltrow Neumann (Anne Hathaway) with the egomaniacal glamour and millennial mysticism of the 'trophy couple.'
A college dropout with neither commercial real estate experience nor entrepreneurial success, Adam is the best used-car salesman in the parking lot. He easily fits the bill of a Silicon Valley disrupter; the millennial prophet or avatar of the new economy who envisions a "capitalist kibbutz" for freelancers, gig workers, and small business owners.
Spoiled and entitled Daddy's girl Rebekah, however, has been aimlessly drifting through her 'fortunate' life with neither a calling nor a passion to save her life. No wonder the poor little rich girl hitches her wagon to a supernova. When Adam's eccentricities and bombastic arrogance may prove to be his undoing, Rebekah swoops in to protect his fragile ego and props him up with woo-woo pep talk and pixie dust magic for her unicorn to soar.
When the female employees are up in arms about Rebekah's mission in life — women must help men "manifest their calling in life" — her solution is to buy a journalist's silence rather than admitting that she has no light of her own. Instead, Rebekah is a lurking wife who 'manifests' things for Adam to enjoy and exploit. Her bravado seems so phony and overplayed; it must be a smokescreen for her gnawing unworthiness. Rebekah's unicorn overhaul project stalls as soon as it becomes a case of the blind leading the blind — no one knows what they are babbling about: WeWork exists to "elevate world's consciousness," It is a movement, complete with its own catechisms, "My family is the moral compass of this company." Huh?
Adam's sugar daddy, SoftBank's Masayoshi Son (Eui-sung Kim), further pours fuel on the fire by affirming that he is not crazy enough to win the game. Adam, of course, takes his words to heart and rebels against the 'adults' like a drunk and doped up teenage boy thanks to WeWork's "entitled, frat-boy culture." While Adam is an absolute holy terror with erratic behavior, Rebekah's holier-than-thou attitude, blatant classism and the 1960's housewife-like antiquated belief are off-putting to say the least. And if, God forbid, you should cross her, you'll pay the price dearly!
Just like Travis Kalanick, Adam Neumann was ousted by the board, but walked away with an obscene amount of payout in exit package and consulting fee. It really makes my blood boil to think about the beleaguered "natives" who drank the Kool-Aid and worked like slaves hoping for the IPO payday down the road. The 'trophy couple' alternately bullied and charmed these post collegiate staff into blind and complete subservience with their empty promises — "we're family and this is our company." They deluded you and shamelessly exploited you. You're all victims of a 'folie à deux' — the presence of the same or similar delusional ideas in two persons closely associated with one another.
By the way, is Anne Hathaway's Rebekah the reincarnation of Elizabeth Holmes? It's really creepy and disturbing. Just saying…
The first three episodes of WeCrashed premiere March 18 on Apple TV+, followed by a new episode debuting every Friday for the remainder of season.
About the Author
Meg Mimura is a TV critic who actually watches shows zealously in search of thought-provoking and paradigm shifting human drama worth our precious time. She is a member of Television Critics Association. Follow her on Twitter.
COURTESY PHOTO