'Watch the Sky' on DVD
Category:
Blu-ray's and DVD's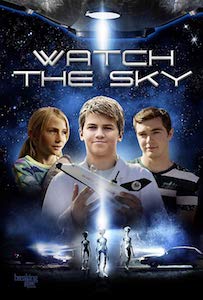 The 2017 film Watch the Sky has been met by mixed reviews. It's the story of two brothers who find themselves in the middle of a major event that could change the world.
Shawn Neary (Miles Muir) is an intelligent kid with his eyes on the sky. He talks his brother Michael (Karson Kern) into helping him with his school project. Shawn intends on launching a weather balloon with a miniature shuttle connected to it equipped with a camera. The idea is to capture photos of the edge of the atmosphere. What they capture on camera is much more. There are aliens out there. But are they good or are they bad?
While Shawn and Michael are busy with their project, their father, the sheriff, is busy with his own dilemmas. First, a local farmer disappears and his wife says he was dragged away by a tall mysterious man. And next, all the cows in the area are found dead with their stomachs blown out. Finally, the army is moving into town and taking up residence at the abandoned army camp. Just what in the world is going on?
The film is a low-budget movie with less than stellar acting, however preteens and young teens will appreciate the film. The problem everyone will have is the ending. The story simply ends. There is no wrapping up or anything.
It's an interesting plot and might just encourage youngsters to learn more about space and scientific experiments. While Shawn is considered a nerd in school, he is definitely a bright boy with a great future in front of him, unless the aliens get him first.
With a non-ending, viewers can make up their own story of how this mystery concludes. There is a slight possibility that there will be future films as this movie was planned as a pilot or the first in a series, but as of this time nothing has been determined yet.
Watch the Sky is a sci-fi family film. Don't expect a film like ET. It's interesting at times but as a stand-alone film, it doesn't quite work. But hopefully there will be more stories continuing with this plot coming soon.
About the Author
Francine Brokaw has been covering all aspects of the entertainment industry for over 25 years. She also writes about products and travel. She has been published in national and international newspapers and magazines as well as Internet websites. She has written her own book, Beyond the Red Carpet The World of Entertainment Journalists, from Sourced Media Books.
Follow her on Twitter