'Washington' comes to life for viewers
Category:
Blu-ray's and DVD's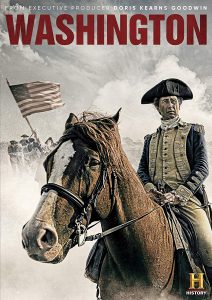 In this time when people are homeschooling and distance learning, the 3-disc DVD Washington is a useful and educational journey that tells the story of the father of our country. This highly researched documentary originally aired earlier this year on the History channel. Now it is available on DVD.
Narrated by Jeff Daniels, the story of George Washington comes to life from the days of the French and Indian War through the revolution and the beginning of the American experiment. Washington was not a perfect man by any means. He made many mistakes along the way, however without his growing and learning and foresight, the United States would not have survived even the first year.
This young country was meant to be governed by the people and not a monarch. Washington realized there could be no king to rule. He knew the people would eventually rebel against a monarch or oligarch, and reluctantly accepted the presidency. He had to find a way to mold that office and although he did not want a second term, he was elected unanimously once again.
George Washington set the standard for the country and helped create the foundation of the United States. He did not seek a third term however if he had he would have been elected. By retiring after two terms, he basically set a two-term limit for the office, however nothing was officially written down about that. Only Franklin D. Roosevelt served a third term and after his death the law of two terms for the presidency was invoked.
Yes, George Washington owned slaves. Yes, he was flawed in many ways and made mistakes along the way. But he also was intelligent and knew the direction in which this country should and would take to succeed and prosper. Watching this 3-part docudrama is an important lesson for all Americans. Washington was a man with foresight and a strong sense of what the nation should be and without him, well, it would not have survived any length of time. He was the glue that held the country together in the late 1700s.
Washington is rated TV-14. His legacy needs to endure and without knowledge of the man, that is not possible. That is why this docudrama is an important tool for home viewing.
About the Author
Francine Brokaw has been covering all aspects of the entertainment industry for over 25 years. She also writes about products and travel. She has been published in national and international newspapers and magazines as well as Internet websites. She has written her own book, Beyond the Red Carpet The World of Entertainment Journalists, from Sourced Media Books, is the entertainment correspondent for Good Day Orange County, and has her own TV show, Beyond the Red Carpet, on Village Television in Orange County.