'Warrior King' is an ancient Asian story now brought to American audiences
Category:
Movies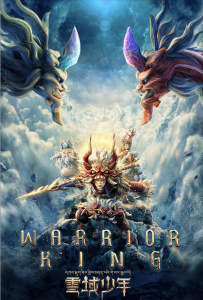 Warrior King is a new animated fantasy based on the story of King Gesar. It takes place in a time of upheaval when clans were warring. The story has been passed down from generation to generation for a thousand years.
This film is interesting in many respects, however it is also very violent. His mother was about to give birth to this "divine child" however she was banished from the tribe after being accused of being responsible for the death of her husband, the leader of the clan. With the help of some magical critters, little Gesar was born and the clan welcomed back the new baby and his mother. 
This little baby is adorable and grows into a young boy who knows he is destined for greatness. He is always putting himself in danger however he considers himself a hero like his father and says, "Heroes don't get scared" and he knows he is – or will be –  a great warrior. 
With demons, monsters, and evil forces threatening his family and his clan, he takes off on a heroic and dangerous journey to save his people. He is fulfilling his destiny.
One great lesson from this film is the advice given to the boy from his father in heaven above. He tells his son, "The more good deeds you do the stronger you will be." 
This is a Tibetan story that is known in Asian however American audiences have probably never heard of King Gesar. The story is considered a literary classic in Central Asia.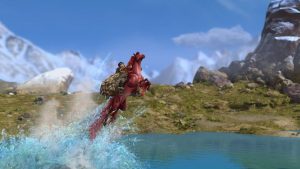 According to factsanddetails.com, "The Gesar Epic of Tibet is regarded as the world's second longest book in the world after the India epic The Mahabharata. It is a heroic tale created by the Tibetans from a collection of ancient legends, myths, verses, proverbs and various other folk cultures of Tibet. Originating via folk oral traditions, King Gesar was passed down from generation to generation orally in a combination of song and narration."
This movie has some beautifully animated and colorful scenes, yet there is plenty of blood and gore, so keep that in mind when you consider your children's reaction. 
This is a Chinese production with English dubbing. The film opens in theaters August 25, 2023.
Warrior King is rated PG-13.
About the Author
Francine Brokaw has been covering all aspects of the entertainment industry for over 30 years. She also writes about products and travel. She has been published in national and international newspapers and magazines as well as Internet websites. She has written her own book, Beyond the Red Carpet The World of Entertainment Journalists, is the entertainment correspondent for Good Day Orange County, and has her own TV show, Beyond the Red Carpet, on Village Television in Orange County. She is a longstanding member of the Television Critics Association and is accredited by the MPAA. Follow her on Twitter.