Warner Archive Collection's 'The Life and Times of Judge Roy Bean'
Category:
Blu-ray's and DVD's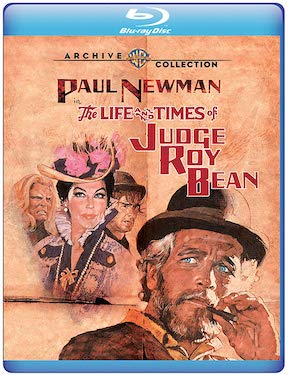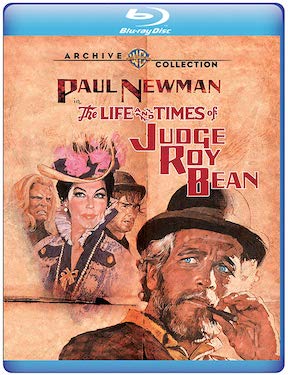 Warner Archive brings this 1972 film to Blu-ray. The Life and Times of Judge Roy Bean is a farcical story starring ol' blue eyes. No, not the singing one (Sinatra), but the acting one… Paul Newman!
Newman is a former outlaw in the old west. Roy Bean is a wanted man, but due to circumstances, he ends up in a little "town" and decides to turn things around. He reads the Texas law book and proclaims himself the law of the town. He's the judge – and jury. Everyone gets hanged.
When an outlaw gang rides into town, they become part of his plan and are deputized. The men split the wealth of the "bad guys" and soon the town is thriving. The prostitutes are now upstanding women whom, I might add, are married to the deputies. Bean's brand of law has made this little town into a law-abiding place rich with people and profits.
The film has an impressive cast of supporting actors. Anthony Perkins, Ned Beatty, Steve Kanaly, Tab Hunter, John Huston, Stacy Keach, Roddy McDowall, Jacqueline Bisset, and Ava Gardner. The movie introduced Victoria Principal as a young Mexican woman, Maria Elena, who is attracted to Bean and later, vice versa.
Principal was nominated for a Golden Globe for "Most Promising Newcomer – Female" and was soon starring in the hit TV drama Dallas (1978-1987). The movie itself was nominated for an Academy Award for Best Original Song, -"Marmalade, Molasses & Honey" – which was sung in the movie by Andy Williams.
The movie is a farcical story with strange characters and, let's face it, a strange story in itself. It is a fun role for Newman, however it's not a laugh-out-loud film. It received mixed reviews.
Bean's brand of justice might be well received by many folks in today's world. If you do something wrong you get severely punished. Public hangings, the punishment, might be a little too old school today, but it sure got people thinking back in those days!
The Life and Times of Judge Roy Bean on Blu-ray is from the Warner Archive Collection. It can be purchased at their website or online retailers.
About the Author
Francine Brokaw has been covering all aspects of the entertainment industry for over 20 years. She also writes about products and travel. She has been published in national and international newspapers and magazines as well as Internet websites. She has written her own book, Beyond the Red Carpet The World of Entertainment Journalists, from Sourced Media Books.
Follow her on Twitter