Walking with Dinosaurs: The Movie Combo Pack
Category:
Blu-ray's and DVD's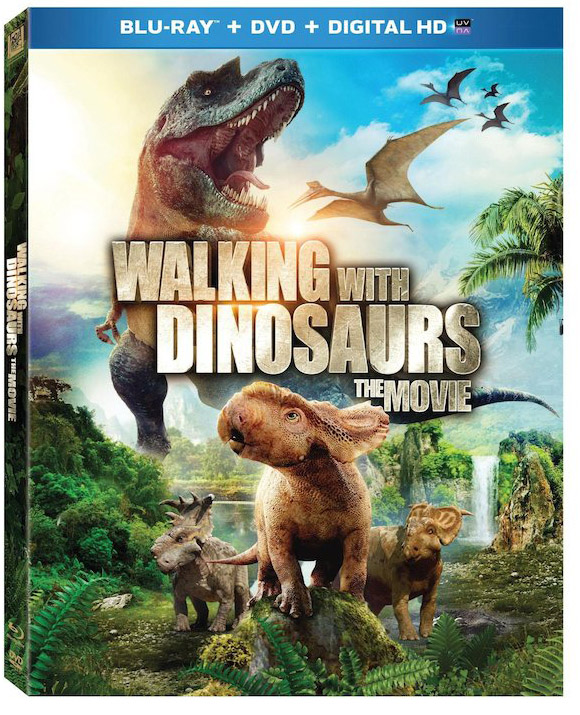 Fans of dinosaurs may or may not enjoy this new film. It is beautifully photographed, however the story is a little flat. Walking with Dinosaurs: The Movie takes viewers back to the late Cretaceous period and follows the life and times of a cute little Pachyrhinosaurus named Patchi.
This was the time when dinosaurs ruled the earth. There were all kinds of dinos and critters. The story begins in today's time when a young boy says he's "not really into digging up dead things" when his uncle, an archeologist, invites him to come to a site where he hopes to find the remains of a dinosaur. Then the movie switches to the story of Patchi, the runt of the litter who faces all the odds to rise to the top of his world. The entire movie is about the – to coin a phrase from another movie company – circle of life.
Patchi (voiced by Justin Long) is a fun-loving little guy. The film follows him from the time he is in the nest through his childhood then to adulthood. With his friend Alex (voiced by John Leguizamo), a bird, Patchi experiences all kinds of adventures – some good and some bad. As Patchi and his herd migrate south, they find beauty and danger all around them. And Patchi finds true love when he meets Juniper (voiced by Tiya Sircar).
Patchi puts on a brave front, being the smallest in his family, but there are signs of his insecurities too. He must find the courage he needs to save his friends and ultimately follow in his father's footsteps to become the leader of the herd. Throughout his life, Patchi discovers how to survive one day at a time. And it is Alex who provides the lighthearted humor through the story.
The bonus feature is an "Ultimate Dino Guide" which is extremely educational as well as entertaining. Viewers see videos of different dinosaurs, learn facts and see an interactive map of where particular species of dinosaurs lived when they inhabited the earth. For instance, Patchi is/was a Pachyrhinosaurus, which means "thick nosed lizard" and when looking at him, it is obvious how the species got its name.
I have some reservations about recommending this for the entire family. There are scenes of animals being killed and eaten, and there are some sensitive scenes with Patchi and his own family. However since that was what actually happened, it is a good history lesson. I would say that viewers with sensitivity to these actions should be prepared before watching this film.
The Combo Pack includes a DVD, a Blu-ray, and Digital HD. Walking with Dinosaurs: The Movie is rated PG for creature action and peril and mild rude humor.

About the Author
Francine Brokaw has been covering all aspects of the entertainment business for 20 years. She also writes about technology and has been a travel writer for the past 12 years. She has been published in national and international newspapers and magazines as well as internet websites. She has written her own book, Beyond the Red Carpet The World of Entertainment Journalists, from Sourced Media Books.
Follow her on Twitter
Like her on Facebook