'Wabbit' DVD GIVEAWAY
Category:
Giveaways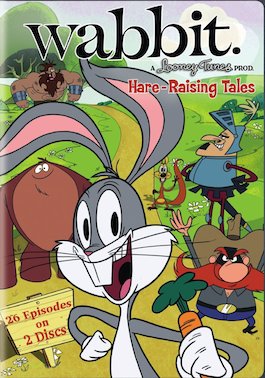 Bugs Bunny, one of the world's most popular cartoon characters, returns to entertain viewers in Wabbit, a new animated series. The hilarious, heroic and mischievous bunny cartoon lovers adore is back in a new, modern comedy series featuring cutting-edge animation, clever storylines and endearing new characters that will capture the hearts of Looney Tunes fans of all ages. Titled Wabbit: A Looney Tunes Production Season 1 Part 1, this release will feature 26 episodes on a two-disc set.
What's Up Doc? More delightfully zany adventures with that carrot-crunching rabbit, Bugs Bunny! From Warner Bros. Animation, Wabbit is classic Looney Tunes with an updated look and engaging new characters. Squeaks the squirrel and Bigfoot join Bugs Bunny on his new escapades. Wabbit also features several of Bugs Bunny's long-time, loyal Looney Tunes pals, including Wile E. Coyote, Yosemite Sam and the Tasmanian Devil, some of whom have new roles in Bugs' life. It's classic Bugs Bunny in present day situations. Now a whole new generation of viewers will be introduced to the lovable antics of that adorable, wisecracking bunny.
We have some DVDs to giveaway!
To be eligible to win a copy of Wabbit Season 1 Part 1, email us at [email protected] with "Wabbit Giveaway" in the title. Please supply your name, address, phone number and email address (so we can let you know if you are a winner).
The deadline for this giveaway is April 23, 2016.