'Vivarium' is a Twilight Zone-style suspense
Category:
Movies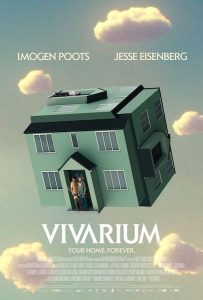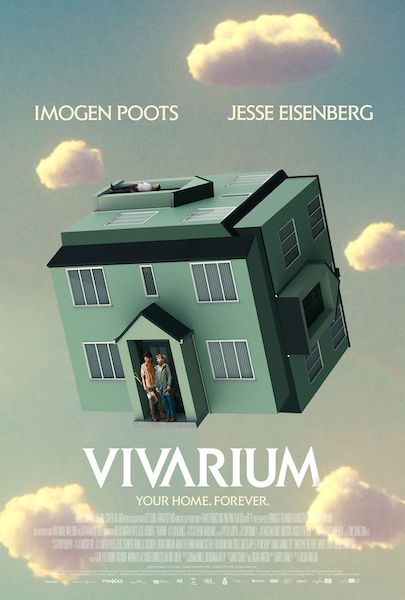 Jesse Eisenberg and Imogen Poots star in Vivarium, a movie that takes viewers into a Twilight Zone-style world. This film would have been a great episode of the sci-fi series except for the ending.
Tom and Gemma (Eisenberg and Poots) are a young couple looking toward their future. They embark on a quest to find a home to start their new life. They meet a very weird real estate agent who insists they look at the new community of Yonder.
The couple follows the agent to a strange community where every house looks the same, they are all the same color of green, and the lawns are perfectly manicured. When they enter the house, #9, they see what looks like an idyllic house with a nice yard and pleasant rooms. The nursery is blue and Gemma remarks it is for a boy. But the couple do not have any children.
Soon they realize the agent has gone. His car is gone and he is nowhere to be found. So they get into their car and head out of Yonder. But they cannot find an exit. Every road leads them back to #9. After driving in circles for hours, their car runs out of gas – in front of #9.
They have no options other than to stay the night. The night turns into days, with boxes of food and other items mysteriously arriving in front of the house. And then one day a box arrives with a baby boy inside, with the instructions to raise the child and they will be released.
From there the story gets really strange. Their lives get even more bizarre, leaving audiences to wonder what the finale will be. Unfortunately, the finale leaves a lot to the imagination. It would have been better to have a definitive ending. The concept is interesting but the film falls flat.
Vivarium is rated R. .
About the Author
Francine Brokaw has been covering all aspects of the entertainment industry for over 25 years. She also writes about products and travel. She has been published in national and international newspapers and magazines as well as Internet websites. She has written her own book, Beyond the Red Carpet The World of Entertainment Journalists, from Sourced Media Books, is the entertainment correspondent for Good Day Orange County, and has her own TV show, Beyond the Red Carpet, on Village Television in Orange County. Follow her on Twitter.