Vivacious Lady on DVD
Category:
Blu-ray's and DVD's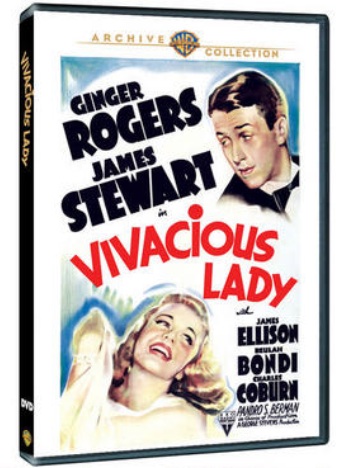 Ginger Rogers shines in this 1938 romantic comedy. Rogers plays a nightclub singer/dancer who meets and falls in love with a small-town university professor. James Stewart is the mild-manners professor who has towed the straight and narrow all of his life. His father is the Dean of the University, and one day he plans on taking over that job.
Peter Morgan (Stewart) has come to the big city to retrieve his cousin Keith (James Ellison), who is also a teacher at the university. Keith is a womanizer and has his eyes on Francey, but once Francey meets Peter, her heart is taken. They become instantly attracted to each other, and by the next day they are engaged. Their only obstacle is introducing Francey to his upper-crust parents, especially his stuffy father (enjoyably played by veteran actor Charles Coburn). What Peter doesn't know is that his mother (played by Beulah Bondi) is enchanted with Francey, and they hit it off very well. The one obstacle left is getting his father to agree to the marriage. If not, Peter is willing to give up his entire future for the woman of his dreams. But when Francey sees there are problems within the family because of her, she decides she doesn't want to be the reason for their discomfort.
All the while, Francey is confronted by Peter's fiancé, a woman chosen by his father. They get into more than one battle, complete with hair pulling and some punching. And Cousin Keith has his hand in the whole mess knowing if something happens between Peter and Francey, he'll be the one to step in and comfort her. After all, he met her first.
This old-fashioned romantic comedy is filled with fun scenes and great dialogue, not to mention amazing performances by Stewart and Rogers. It's a true delight to watch some of the best actors of the 20th century together with a screenplay that uses their delightful comedic abilities.
Vivacious Lady is definitely a "must see" for anyone interested in old movies, good old movies, great acting, and fun romance. It is part of the Warner Archive Collection and is available through their website www.wbshop.com.
About the Author
Francine Brokaw has been covering all aspects of the entertainment business for 20 years. She also writes about technology and has been a travel writer for the past 12 years. She has been published in national and international newspapers and magazines as well as Internet websites. She has written her own book, Beyond the Red Carpet: The World of Entertainment Journalists, from Sourced Media Books.
Follow her on Twitter
Like her on Facebook