Visit the Disney Princess at Disneyland
Category:
Travel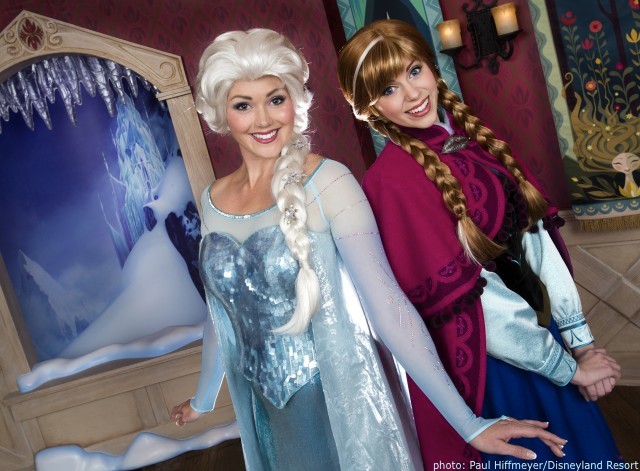 Fantasy Faire is a storybook village square in Disneyland where guests get to meet and talk with some of the beloved Disney Princesses. Snow White, Cinderella, Aurora, Belle, and Rapunzel frequent the square. Besides their new locale of Fantasy Faire, the Princesses can be spotted in other areas of the park as well.
Here are some fun questions about the Princesses and Disneyland:
Given their consistent popularity, Disney Princesses have found many places to greet their admirers through the years. What is the name of the location inside Fantasy Faire where guests can visit with the royal characters? (The Royal Hall, near the forecourt of Sleeping Beauty Castle)
Which princess may sometimes be found by her Wishing Well, near Sleeping Beauty Castle? (Snow White)
Which princess would you find in New Orleans Square, usually singing a lively tune?
(Tiana, from "The Princess and the Frog")
Which princesses can you see in the Royal Theatre, onstage and then greeting guests after their shows at Fantasy Faire? (Rapunzel and Belle)
Which princesses are you most likely to meet in the Royal Hall? (Cinderella, Aurora, Ariel)
Disney Princesses have many beautiful traits. Some are especially kind, some are determined and some are bold. Which princess can you meet at Disneyland who is known for her adventurous spirit and red hair? (Merida)
Which princess may often be found in Adventureland, in a special location near the Jungle Cruise? (Princess Jasmine in Aladdin's Oasis)
History question: Which were the only princesses who appeared as characters in Disneyland on its opening day in 1955? (Snow White, Cinderella)
Which princess had a "home" in Disneyland before she had even appeared in a Disney animated feature? (Aurora or Sleeping Beauty – with Sleeping Beauty Castle in 1955. The motion picture "Sleeping Beauty" was released in 1959.)
Which princesses from the movie Frozen hang out at their new spot in Fantasyland? (Elsa and Anna)
About the Author
Francine Brokaw has been covering all aspects of the entertainment business for 20 years. She also writes about technology and has been a travel writer for the past 12 years. She has been published in national and international newspapers and magazines as well as Internet websites. She has written her own book, Beyond the Red Carpet: The World of Entertainment Journalists, from Sourced Media Books.
Follow her on Twitter
Like her on Facebook