'Victor/Victoria' on Blu-ray
Category:
Blu-ray's and DVD's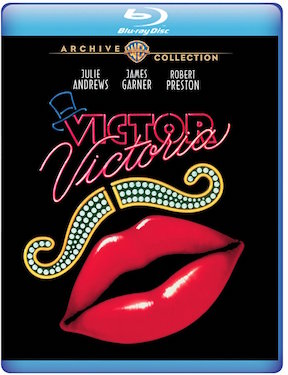 From the Warner Archive Collection comes the Blu-ray edition of the funny, endearing, and memorable musical Victor Victoria. Julie Andrews, Robert Preston, and James Garner star in this 1982 musical romantic comedy, written and directed by Blake Edwards.
Andrews plays Victoria, a down-on-her-luck singer in 1934 Paris who meets a man called Toddy (Preston) who is also struggling in his personal and professional lives. Together they concoct a brilliant plan to have Victoria masquerade as a transvestite – a man who, in this case, performs as a woman. A woman pretending to be a man pretending to be a woman is a whacky storyline, but it is absolutely adorable.
Preston is so cute as Toddy that his endearing character steals the show. But then add King Marchand (Garner), an American mobster who catches Victoria's act and feels attracted to her until he learns she is really a woman, and you have another character that adds a funny element to the plot. His attraction to Victoria stirs up his frustrations because he thinks she is a man.
Social mores are brought to the forefront in this story in an adorable way, along with many musical numbers that add another element to the film. The music won an Academy Award that year.
Since Victor/Victoria, there have been other stories with some of the same plots. For instance, Nia Vardalos and Toni Collette starred in the 2004 film Connie and Carla, about two women songstresses who pretend to be transvestite singers to hide from the mob.
The bonus feature on this Blu-ray edition is a commentary by Andrews and Edwards, who, if you don't know, were married. They divulge aspects of the film and the production that are quite interesting. For instance, Andrews was always second-guessing herself as to whether she could pull off her character's storyline and be believable as a female impersonator. And Edwards discusses writing the screenplay specifically for his wife, having taken the basics from a 1933 German film Viktor/Viktoria. Andrews also discusses the warm colors used in the show to make it appealing as a romantic comedy. And every part of the movie was filmed in a soundstage in England instead of on location. As Edwards confides, it was too difficult to make a period piece on location.
This is a fun film filled with endearing characters, hilarious antics, and wonderful music. It's rated PG.
Victor/Victoria on Blu-ray is part of the Warner Archive Collection and can be ordered from their website.
About the Author
Francine Brokaw has been covering all aspects of the entertainment industry for 20 years. She also writes about products and travel. She has been published in national and international newspapers and magazines as well as Internet websites. She has written her own book, Beyond the Red Carpet The World of Entertainment Journalists, from Sourced Media Books.
Follow her on Twitter