Very Good Girls on DVD
Category:
Blu-ray's and DVD's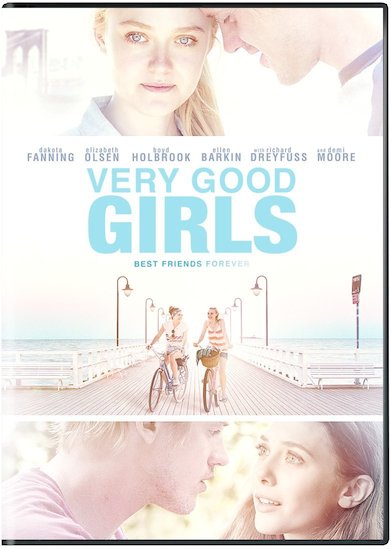 Dakota Fanning and Elizabeth Olsen star in this coming of age movie about two best friends. Very Good Girls is a sensitive look at these two friends as they prepare for college and enjoy each other's company during the summer.
Lilly (Fanning) and Gerry (Olsen) have been best friends for their entire lives. This story takes place during the summer before Lilly goes off to Yale. A lot happens to these two young women in the summer and they each have life changing experiences.
Lilly is a quiet young woman whose family is not very open about their feelings. Her parents (Ellen Barkin and Clark Gregg), who are doctors, are having marital difficulties and Lilly feels their troubles add more stress to her life as she tries to be more attentive to her two younger sisters.
Gerry's family is quite the opposite. Her parents (Richard Dreyfuss and Demi Moore) are liberal, outspoken, and ready to discuss anything and everything. Lilly spends a lot of time with them and enjoys their conversations and boisterous antics, which are missing in her own home.
The plot comes down to two girls and one guy. While riding their bikes at the beach, both girls meet David (Boyd Holbrook), a cool dude who knows what he wants and goes after it. Gerry instantly falls for the guy, but it is Lilly he wants.
Secretly, Lilly begins an affair with David while hiding their relationship from her best friend who is always talking about how much she likes the guy. Lilly never tells Gerry about the time she spends with David or that he took her virginity. In the meantime, Gerry continues to pursue David to the chagrin of Lilly.
Lilly is in a difficult place. She loves David, yet her best friend pines over him. Then when a tragedy strikes Gerry's family, everything comes to a head.
The movie is slow moving, however that is the tone of the story. It's compelling and engaging and even though it lags in a few spots, viewers will want to stay with it to see how these two friends interact with each other, their families, and with David over the course of the summer.
Is their friendship strong enough to handle what they confront over the summer?
Bonus features include interviews with both Dakota Fanning and Elizabeth Olsen as they discuss their own friendship and making the movie. This is an intense drama that is moving and memorable.
Very Good Girls is available on Blu-ray and DVD. It is rated R for language and sexual content.
About the Author
Francine Brokaw has been covering all aspects of the entertainment business for 20 years. She also writes about technology and has been a travel writer for the past 12 years. She has been published in national and international newspapers and magazines as well as internet websites. She has written her own book, Beyond the Red Carpet The World of Entertainment Journalists, from Sourced Media Books.
Follow her on Twitter
Like her on Facebook