'Vacation' on Combo Pack
Category:
Blu-ray's and DVD's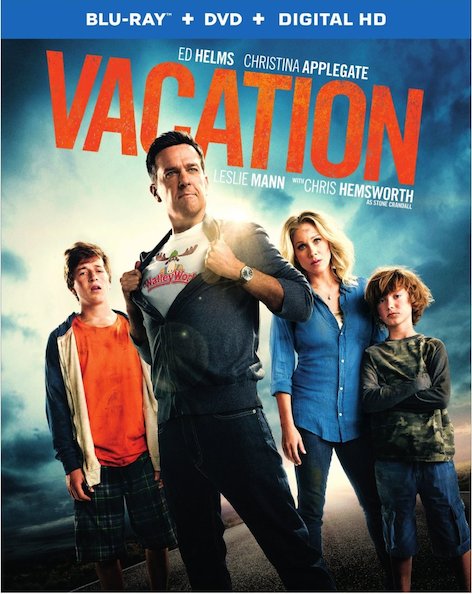 This Vacation is not your parents' vacation. In 1983 Clark Griswold (Chevy Chase) and his wife Ellen (Beverly D'Angelo) embarked on a family vacation in the Family Truckster with their two children Rusty and Audrey. They were on their way to Wally World, a fun theme park for the entire family. Well, to say they had a madcap adventure is an understatement. The family wasn't swayed. In 1985 they went on a European Vacation and then in 1997 on a Vegas Vacation. In each of the films the actors playing the parents stayed the same. It was the kids who changed.
Now that Rusty and Audrey are grown up, Ed Helms and Leslie Mann play them. This Vacation is a little bit raunchier than the original story. Times have changed. But the Griswolds, at least Rusty Griswold, still finds that his vacation is filled with plenty of antics and screw-ups that haunted his family trip when he was a young boy.
Now grown, Rusty is an airline pilot with a wife Debbie (Christina Applegate), and two sons, James (Skyler Gisondo), and Kevin (Steele Stebbins) who is a completely obnoxious kid and bullies his older brother constantly.
Rusty decides to relive some of the family experiences he had when he was young and rents a Tartan Prancer ("the Honda of Albania") for his family vacation from Chicago to California. He is taking them all to Wally World!
Like his father before him, Rusty is an optimistic man who doesn't let the mishaps along the way disrupt their vacation. Many of the comical elements that were embedded into the 1983 movie are missing however the writers did attempt to recreate many of them. And yes, I did find myself laughing out loud at various times while watching this movie.
Rusty and his family visit Debbie's college campus in Tennessee, Audrey and her family in Texas, the four corners, the Grand Canyon, and other locations before ending up at Clark and Ellen's B&B in San Francisco. But will they ever make it to Wally World? And if they do, will they have a good time or just the same crap that they have been experiencing the entire trip?
Chevy Chase and Beverly D'Angelo reprise their famous roles, that made them part of pop culture along with the Wagon Queen Family Truckster.
The combo pack includes a Blu-ray and a DVD and Digital HD plus several bonus features that look at how the original movie made it into pop culture. Chase and D'Angelo discuss the history of their roles in the franchise. There is another bonus that looks at the stops the Griswolds take on their cross-country journey. A gag reel of bloopers and deleted scenes are also included as well as a look at filming the entire movie in and around Atlanta, Georgia. Thanks to movie magic, Tennessee, Texas, the Grand Canyon, San Francisco, and even Wally World were all recreated in Georgia.
The raunchiness and the language make this not suitable for family viewing. It is a fun, whacky and wild story, and like the original Vacation, it is rated R (for crude and sexual content, and language throughout, and brief graphic nudity.) In other words, this is for adults only.
About the Author
Francine Brokaw has been covering all aspects of the entertainment business for 20 years. She also writes about technology and has been a travel writer for the past 12 years. She has been published in national and international newspapers and magazines as well as internet websites. She has written her own book, Beyond the Red Carpet The World of Entertainment Journalists, from Sourced Media Books.
Follow her on Twitter