Up on the Wooftop
Category:
Blu-ray's and DVD's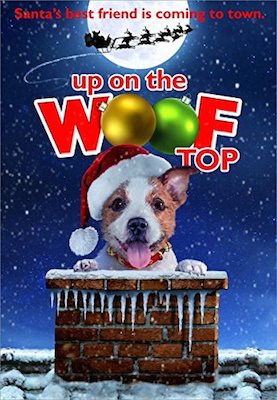 Did you know that dogs help out in the North Pole? Yep. Dogs and elves are Santa's helpers. Toby is one of the canine crew. He's a peppy little pup and full of excitement and oftentimes mischief. When the head elves want to kick him out, Santa insists that Toby is part of their family and will definitely stay in the North Pole. Up on the Wooftop is the story of how Toby realizes his dreams of leading Santa's sleigh on Christmas Eve and becoming part of a loving family that accepts him for who he is.
After causing some ruckus with the reindeer, Toby is still intent on proving he has what it takes to lead the team. He overhears Santa's plan to take the reindeer out on a trial run to see how they perform and the little guy sneaks onto the sleigh. Unbeknownst to Santa, Toby falls out of the sleigh and lands in a house in Iowa.
Did I forget to mention that the dogs talk? The only people that can hear them, however, are those who believe in Santa and the magic of Christmas. So, when Toby lands smack dab in the middle of the Anderson's household, he has to convince them that he is part of Santa's team and needs to get back to the North Pole. That's not a difficult task when it comes to the kids, but the parents are different – especially the father who is hassled at work and trying to cope with his nasty boss while walking the line between his family and his work.
Toby ultimately ends up proving his worth and helping this fractured family find their way back to each other and in the end, he gets exactly what he has wanted all his life.
The movie is something for young kids. It's probably not going to have a lot of appeal to adults alone. The saving grace of the film is the adorable little dog. His face is sweet and it's impossible not to smile when you see a close-up of him. There are some "naughty" scenes in the movie but for the most part it is a simple little holiday film. Up on the Wooftop is not rated.
About the Author
Francine Brokaw has been covering all aspects of the entertainment industry for 20 years. She also writes about products and travel. She has been published in national and international newspapers and magazines as well as Internet websites. She has written her own book, Beyond the Red Carpet The World of Entertainment Journalists, from Sourced Media Books.
Follow her on Twitter