'Two for the Seesaw' on Blu-ray
Category:
Blu-ray's and DVD's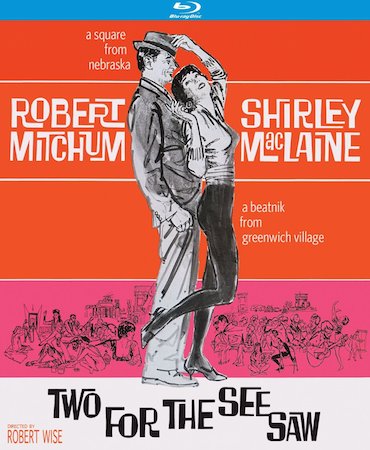 Shirley MacLaine and Robert Mitchum star in this black & white 1962 drama based on the play by William Gibson. Two for the Seesaw is the story of two people who meet and affect each other's life in ways they had never expected.
Jerry (Mitchum) has been wandering around the streets of NYC for days. He has recently moved there from Omaha where his life just fell apart. In the midst of a divorce and having left his cushy job in his wife's father's law firm, Jerry is lost and looking for meaning in his life.
Gittel (MacLaine) is an outgoing dancer who hasn't had a job in ages. She has plenty of health problems though. She is friendly and eccentric. So, when the two meet briefly at a party, given by Jerry's friend from Nebraska, there is a little spark. At least there is for Jerry. He decides to call her and they instantly start a back-and-forth relationship. He has the need to have a purpose in his life and he makes Gittel that purpose. He decides to help her and their affair takes off.
While their love and affection for each other grows, there is conflict within their relationship. Gittel is frightened that he will go back to his wife and also that she doesn't fit into his world. She is not well bred or well read. In the meantime, Jerry has his own conflicts because he cannot cut the cord to his past life, and in order to make it with Gittel, that is what he must do.
This is the story of two people deep in conflicts within themselves. It is definitely a drama in the true sense of the word and both MacLaine and Mitchum are great in their roles. As they each try to get their lives on track, their relationship grows and changes. But what is the best thing for each of them? That is the question.
This movie came on the heels of MacLaine's acclaimed film The Children's Hour. She had already won praise for her performances in The Apartment (1960), Can-Can (1960), Ask Any Girl (1959), Around the World in Eighty Days (1956), and The Trouble with Harry (1955). Her accolades would grow in the coming years with roles in Irma la Douce, Sweet Charity, Two Mules for Sister Sarah, The Turning Point, Being There, and many more in her long career. She is still starring in films.
Mitchum had plenty of well-received films prior to this one: The Longest Day (1962), Cape Fear (1961), The Grass is Greener (1960), The Sundowners (1960), Heaven Knows, Mr. Allison (1956), Foreign Intrigue (1955), River of No Return (1954), and many more and his film career continued into the 1990s until his death in 1997.
Two for the Seesaw is not rated however it is for mature audiences as there is smoking, mild violence, and adult themes. This is not a warm and fuzzy story. It is, however, a well-acted drama about two very different people.
About the Author
Francine Brokaw has been covering all aspects of the entertainment industry for 20 years. She also writes about products and travel. She has been published in national and international newspapers and magazines as well as Internet websites. She has written her own book, Beyond the Red Carpet The World of Entertainment Journalists, from Sourced Media Books.
Follow her on Twitter