'Two for the Road' on Blu-ray from Twilight Time
Category:
Blu-ray's and DVD's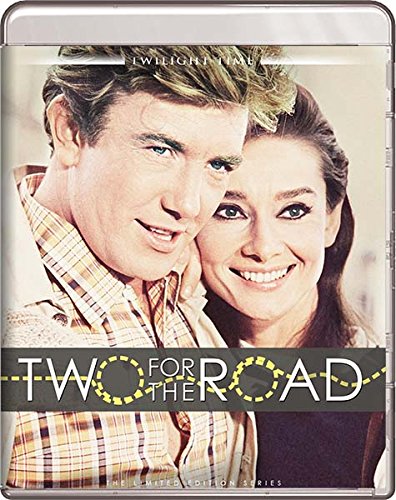 Nominated for an Oscar for best original screenplay, Two for the Road is a 1967 film about the relationship and marriage between Joanna and Mark (Audrey Hepburn and Albert Finney) as they travel the back roads of France. The film shifts back and forth during five periods in their relationship.
This is a little disjointed as the different periods during their 10-year marriage are defined by the different cars and of course Hepburn's wardrobe and hairstyles. The theme song by Henry Mancini carries the story along and is definitely memorable, adding to the tone of the story.
Joanna met Mark accidentally and during their first weeks together managed to fall in love, even though Mark was steadfast against love and marriage. But they brought out the best in each other, in a rather odd way. As the viewer looks at their lives as they unfolded during the decade, they might wonder what kept them together? They were definitely different kinds of people, and their unfaithfulness during their marriage was a point of contention. However they always managed to find their way back to each other. To say they were each incomplete without the other is a good way of describing their often-contemptuous marriage. Ultimately it is love that bubbles to the surface and they realize they need each other.
Hepburn is adorable as always. The beautiful background score by Mancini is a good addition to this film. It's soulful yet spirited, just like the characters.
Jacqueline Bisset has a small but crucial role in the beginning of the story, which is the reason Joanna and Mark got together in the first place. She had not yet made her mark on the American entertainment industry, but soon her career took off. And playing the small part of Joanna and Mark's daughter Caroline is Kathy Chelimsky. Interestingly, her brother Tom later played the son of a friend of Hepburn in the 1963 film Charade, and Stanley Donen directed both movies.
Two for the Road is the story of two people who have an unbreakable bond. It's a treasure for film buffs, and especially fans of these two major actors.
About the Author
Francine Brokaw has been covering all aspects of the entertainment industry for over 20 years. She also writes about products and travel. She has been published in national and international newspapers and magazines as well as Internet websites. She has written her own book, Beyond the Red Carpet The World of Entertainment Journalists, from Sourced Media Books.
Follow her on Twitter