'Turtle Odyssey: Bunji's Big Adventure'
Category:
Blu-ray's and DVD's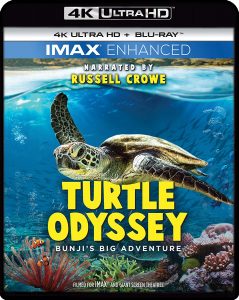 Russell Crowe narrated this wonderful documentary about the life of a sea turtle. Turtle Odyssey: Bunji's Big Adventure is available on 4K/Blu-ray and a single DVD. If you are 4K compatible, by all means, this is a great film to watch on ultra High Definition.
The story follows an Australian Sea Turtle named Bunji as she hatches from her egg, travels the dangerous journey down the sand to the ocean, and then swims (or catches a ride on some seaweed) through the ocean waters, as her ancestors have done for thousands of years. Sea turtles have been swimming the oceans long before dinosaurs roamed the land. They are amazing animals and this story demonstrates how intelligent they are and how they have instincts that have led them through their lives for over 100 million years.
The film also demonstrates how plastic debris in the waters are dangerous for these animals. Although the oceans are filled with hazards and other animals who would like to eat them, the most dangerous enemy of the sea turtle is man. Besides the waste in the water, the warming temperature also poses a threat to the sea turtles. The warmer the sand the more females are hatched. This presents a problem because if there are not males to help populate the turtle population, their numbers will dwindle and eventually they will be extinct. However there are some good people who are tracking the turtles and studying them with the hopes of helping keep the population safe and alive for future generations.
Watching this film (especially on 4K) is a crystal clear window into the depths of the ocean. It is a fun journey to take as viewers see how the lifespans of sea turtles play out and how they follow the same paths as their ancestors throughout time.  Join Bunji as her journey unfolds in this entertaining and educational film.
About the Author
Francine Brokaw has been covering all aspects of the entertainment industry for over 25 years. She also writes about products and travel. She has been published in national and international newspapers and magazines as well as Internet websites. She has written her own book, Beyond the Red Carpet The World of Entertainment Journalists, from Sourced Media Books, is the entertainment correspondent for Good Day Orange County, and has her own TV show, Beyond the Red Carpet, on Village Television in Orange County. Follow her on Twitter.