Turbo Combo Pack
Category:
Blu-ray's and DVD's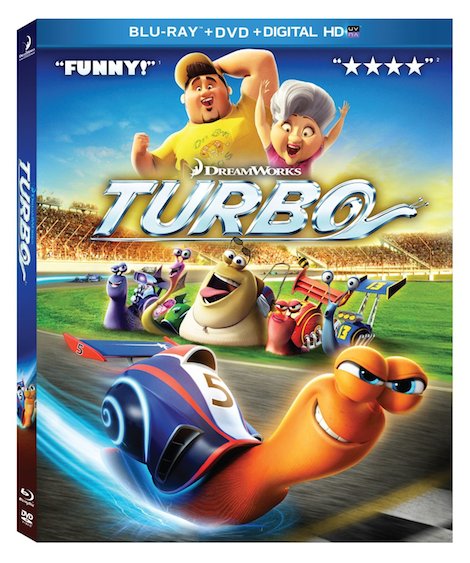 "No dream is too big and no dreamer is too small." Turbo is a cute animated movie about one little snail's need for speed.
Theo (voiced by Ryan Reynolds) is an average little garden snail. Well, he's really not so average. This little guy has dreams of racing in the Indy 500. Yep, the big car race. In the garden he's thought of as strange, and even his brother Chet (voiced by Paul Giamatti) is embarrassed by his antics. But nothing will stop Theo from his need for speed. And, thanks to a freak accident, Theo gets to realize his dreams.
Theo is magically changed into a speed machine, well, actually, a speed snail. This little fellow can really move. When he and Chet find themselves "snailnapped" by a taco salesman, they discover they are supposed to "race" against other snails. Apparently, the owners of the few stores in a dilapidated strip mall find fun in racing snails. They are blown out of their seats when Theo, now called Turbo, shows what he can do. To drum up business for the mall, they decide to enter Turbo in the Indy 500. Although Chet thinks this is crazy, Turbo is on cloud nine. "One snail's 'crazy' is another snail's 'awesome.'"
The moral to this story is to never give up. While we all cannot be freakishly transformed with super powers, we can all strive to attain our goals. Turbo and his friends are fun little characters and kids will definitely enjoy watching them interact. Although, the next time they see a real snail slowly maneuvering down the sidewalk, they might think differently about squashing it!
Bonus features include deleted scenes and little tidbits about the film and the characters. Turbo is available in a combo pack that includes Blu-ray, DVD, and Digital HD. It is part of the Fox Home Entertainment Holiday Collection and is rated PG for some mild action and thematic elements.
About the Author
Francine Brokaw has been covering all aspects of the entertainment business for 20 years. She also writes about technology and has been a travel writer for the past 12 years. She has been published in national and international newspapers and magazines as well as Internet websites. She has written her own book, Beyond the Red Carpet: The World of Entertainment Journalists, from Sourced Media Books.
Follow her on Twitter
Like her on Facebook