'Tully' - Motherhood is a tough job
Category:
Movies

In the new movie Tully, Charlize Theron is front and center in this story of motherhood. No one said it was going to be easy, but it is rewarding.
Theron is Marlo, a mother of two with a third coming any day. Let's face it, the final days of pregnancy are rife with frustrations and uncomfortable feelings. But when the baby arrives, the tide turns. No longer is there a new baby on the way…it's here! And now Marlo is the mother of three – a daughter, a challenging son, and a new baby girl. Her husband Drew (Ron Livingston) is caring but not hands-on, which would be a big help. Taking care of one child is hard enough, but three is, well, it could send someone over the edge. Even Marie Osmond and Brooke Shields have come out publicly about their experiences with post partum depression. While Marlo isn't displaying these symptoms, she is suffering from exhaustion and being over worked. Motherhood is a tough job.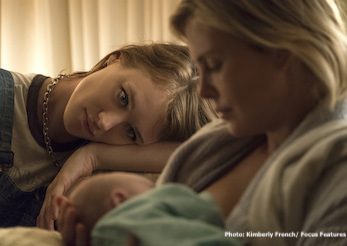 Enter Tully (Mackenzie Davis), a night nanny who arrives in the evenings and takes care of the baby and the house, thereby giving Marlo time for much-needed sleep. Tully takes over and adds the inspiration Marlo desperately needs. She is encouraging and honest. She also has a sixth sense of what Marlo is going through, what she needs, and how to help make her life easier. We could all use a Tully.
Parenthood, especially motherhood, doesn't come with a manual. New mothers should be celebrated. They have a tough job. But while taking care of their children, they have to learn to take care of themselves. Asking for help is not a bad thing. On the contrary, it shows that you will do whatever it takes to care for your family, which also means caring for yourself. After all, if you are not taking care of yourself and running at your best, then you can't do a good job being a mom. It is all interconnected, which is exactly what Marlo discovers.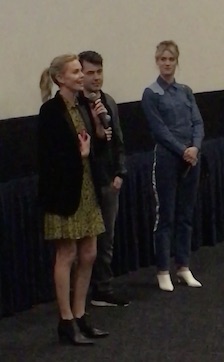 This is a cute yet sensitive story celebrating the trials and tribulations of motherhood. Congratulations, moms of the world. You have a thankless, challenging, rewarding, and most difficult job.
Theron, Livingston, and Davis came to the special screening to introduce the film. Theron, who is a mom, said she is "absolutely in love with the film." She said the film is about all of the things moms go through. She acknowledged being a parent is hard but also great!
Tully is rated R for language and some sexuality/nudity. It opens May 4, 2018.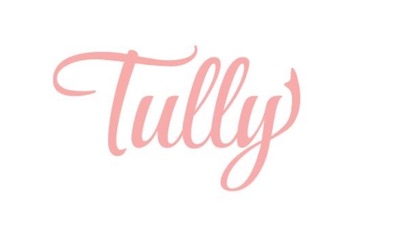 About the Author
Francine Brokaw has been covering all aspects of the entertainment industry for over 20 years. She also writes about products and travel. She has been published in national and international newspapers and magazines as well as Internet websites. She has written her own book, Beyond the Red Carpet The World of Entertainment Journalists, from Sourced Media Books.
Follow her on Twitter