Truth – Movie Review
Category:
Movies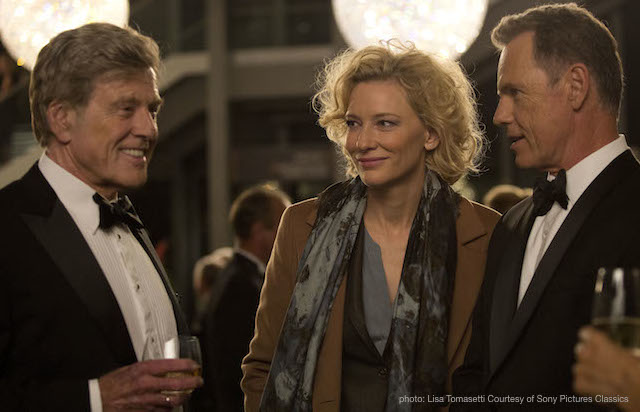 In 1976 Robert Redford played journalist Bob Woodward in the film All the President's Men. That story was about the investigative journalism spearheaded by Woodward and Carl Bernstein who uncovered the Watergate cover-up which led to the resignation of President Richard Nixon. In Truth, Redford again takes on the role of a journalist when he plays Dan Rather in an incident that eventually led to Rather's resignation from CBS.
This film delves into the television reporting of a story about President George W. Bush and his absence from the National Guard when he was supposed to be on duty. It also looks at the way the National Guard was used by those who wanted to escape the Vietnam War by serving in a local capacity.
Mary Mapes (Cate Blanchett) was the producer on this story and she was adamant about bringing this incident to the public via the CBS show 60 Minutes. Her relationship with Rather was friendly and collaborative. How she handled herself and the investigation is what comes into question in this movie, which is based on Mapes' book Truth and Duty: The President, and the Privilege of Power.
If you are looking for a good movie about journalism the old-fashioned way with fact checking and credentials, this is not the movie for you. It is mired with personal divergence and doesn't get into the nitty gritty that All the President's Men does. It is, however, a reflection of the television news industry.
The one shining aspect of the film is Redford's portrayal of Rather. He does a good imitation of the iconic newsman and the makeup department did a fabulous job in transforming the actor into the news anchor. Every once in awhile at certain angles Redford does look like Rather. That is enough to put viewers into the story. Otherwise, this is not an engaging or even appealing film.
Besides Redford and Blanchett, the film costars Topher Grace, Dennis Quaid, Elisabeth Moss, Bruce Greenwood, Stacy Keach, and Dermot Mulroney. Unfortunately, the great cast is not enough to make this an absorbing film. It has some merits though, by showing the importance of good journalism. "You stop asking questions and that's when the American people lose." A free press is the salvation of any democracy.
Truth is rated R for language and a brief nude photo.
About the Author
Francine Brokaw has been covering all aspects of the entertainment business for 20 years. She also writes about technology and has been a travel writer for the past 12 years. She has been published in national and international newspapers and magazines as well as internet websites. She has written her own book, Beyond the Red Carpet The World of Entertainment Journalists, from Sourced Media Books.
Follow her on Twitter