'Trollhunters: Tales of Arcadia' available on Netflix
Category:
Television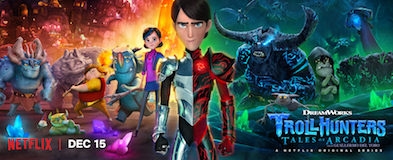 Last year the DreamWorks Animation series Trollhunters took Netflix viewers to a new realm. The 26-episode first season was the most watched kids original series on Netflix, to date. The second season, Trollhunters: Tales of Arcadia premiers December 15, 2017 with 13 fun-filled episodes for fans young and not-so-young.
As the writers explained to members of the media, the story was originally envisioned as a feature film, but there was too much to explore so they designed a serialized trilogy that has been created for TV viewers on Netflix. In the first season they crafted the different worlds: the human world and the troll world, and they brought the characters to life. Season two expands the characters and explores the mythology, giving a more detailed look at the background of the special magical items as well as the characters.


As they also discussed, Toby is not just a sidekick for Jim, and Claire is not just the token female/girlfriend. This season is definitely the "season of Claire," and her strength and the power of her shadow staff comes into play more as the episodes progress.
The series is as entertaining for girls as it is for boys, and the kids who have been hooked on the show have involved their parents in it as well. The characters, mythology, and magic appeal to all viewers.
The late Anton Yelchin voiced the character of Jim in the show and the writers/producers expressed sadness that the actor didn't live long enough to see the love and affection viewers have for the series.

Kelsey Grammer voices the adorable troll Blinky, and this season Mark Hamill comes on as Blinky's evil brother Dictatious Maximus. The writers are excited by Hamill's addition to the show. He brings a different level of enthusiasm and vision to his character than they originally imagined.
The third season in the trilogy will be "Wizards" yet that has yet to be finalized.
Trollhunters garnered the most Emmy Awards for in single year for an animated show. There's no doubt the show has a strong following and with the way the entire season is available for binge watching on Netflix, it is sure to gain even more viewers as the second season hits the network.
With the winter months being notorious for sick days, having these two season available to view will be a welcome experience for any kid who is stuck in bed with a cold or the flu.
Trollhunters and Trollhunters: Tales of Arcadia are rated TV-Y7.
About the Author
Francine Brokaw has been covering all aspects of the entertainment industry for over 20 years. She also writes about products and travel. She has been published in national and international newspapers and magazines as well as Internet websites. She has written her own book, Beyond the Red Carpet The World of Entertainment Journalists, from Sourced Media Books.
Follow her on Twitter