'Trio – The Complete Trio Collection' CD Set
Category:
Books and Music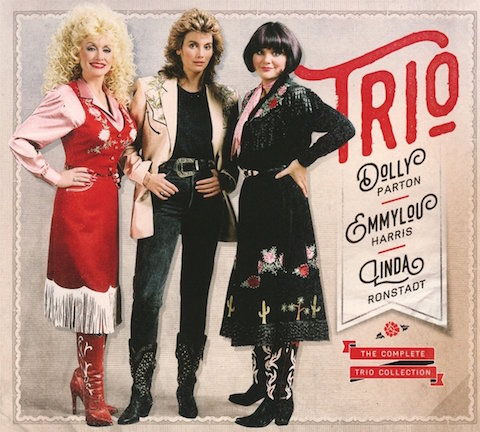 In 1987 three popular female vocalists joined forces and created an album that instantly became a hit around the world. Dolly Parton, Linda Ronstadt, and Emmylou Harris each had solo careers and when this group of friends blended their talents, the first "Trio" album sold over 4 million copies. They followed that up with a second album, "Trio II," in 1999. Now, for the first time, the two albums come together, completely remastered and including all of the previously released tracks as well as alternate takes and some unreleased tracks.
"It's nice to have it all together," said Parton. "I just think we all take such pride in this. I know that for me, this will always stand as one of the greatest musical things that I've done in my entire life. I've never been prouder of anything else. I love these girls like sisters, but what we did as 'The Trio' will stand up long after we're all gone."
Harris said about this collection, "When I heard it, I remembered we did that, but I had forgotten how great it was. It was like a Christmas present that you forgot to open, and you finally get to discover."
And Ronstadt explained that their producer, George Massenburg, let the three women work their magic. "He was just great at listening and at carrying out a whim. The music ideas would come from us, and he would keep us from getting into a muddle and going off in twenty-nine different directions. He has the best way of recording acoustic instruments – where they still sounded natural, but they sounded at their best. He was really an invaluable partner, in that he really didn't interfere with us. He let things develop, and just kept things organized."
The first two discs are remastered tracks from their original. The third disc is a collection of outtakes and unreleased tracks from both recording sessions, with some never-before-heard versions of some of their tracks.
This is a collection that will bring back memories to those who have heard the songs before and those who are fans of the singers. The women are award-winning singers in their own right, and as a group they added more awards to their shelves and walls. The blending of their unique voices is something that listeners immediately loved. Everyone has his/her favorite song, however it's hard to single out just one great track from this collection. They are all wonderful.
Whether they sing harmony, acapella, or together, Parton, Harris, and Ronstadt created music history with their recordings on the Trio albums. This new collection is soulful and something that will be cherished by music fans. And it might even alert a new generation of fans to the three women who graced the radio waves for decades and whose joint effort still resonates in the music world.
In the liner notes, Harris explained, "Our three voices became something completely different from what any of us do as individuals." Parton said, "We were all very soulful and passionate in our own way and we each have our own kind of style." The combination of the three voices became a new style and one that fans around the world embraced with passion.
Listening to this new release it's hard not to think back. The songs are timeless and the union of the women was historic. With a little gospel, a lot of country, and a pinch of pop, Linda Ronstadt, Emmylou Harris, and Dolly Parton's collaboration is ageless.
Personal note: I have to replay "Sandman" over and over every time I hear it. It is a rendition of the classic song that makes me happy and always puts a smile on my face. These women have created several tracks that are tops on my list.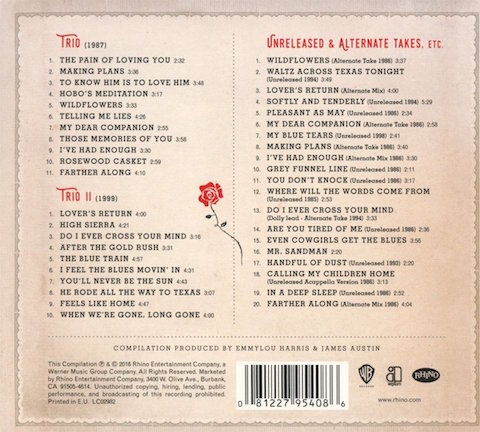 About the Author
Francine Brokaw has been covering all aspects of the entertainment industry for 20 years. She also writes about products and travel. She has been published in national and international newspapers and magazines as well as Internet websites. She has written her own book, Beyond the Red Carpet The World of Entertainment Journalists, from Sourced Media Books.
Follow her on Twitter