'Toy Story 4' now on Blu-ray
Category:
Blu-ray's and DVD's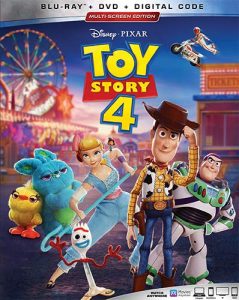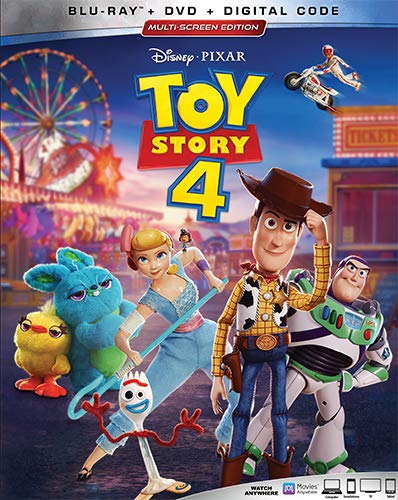 In Toy Story 3 Andy went away to college and gave his treasured friends to Bonnie, who has an amazing imagination. In subsequent made-for-TV shows, (Toy Story of Terror and Toy Story that Time Forgot) Bonnie's love and imagination with her toys captured the hearts of viewers.
When Andy had his toys, Woody was his favorite and went with him everywhere. Now in Toy Story 4, Woody is with Bonnie and has been demoted, so to speak. He's not her favorite but he still feels responsible for her, in the same way he did for Andy. He knows his purpose it to make Bonnie happy. And when she is afraid to go to kindergarten, Woody stows away in her backpack to be there for her if she needs him.
At the kindergarten initiation day Bonnie creates Forky, a spork combined with googly eyes and other items from the trash. She instantly loves this new toy. When they all get back to her room, Woody introduces Forky to the gang. But Forky still thinks he is trash and not a toy. After all, he came from the trash.
Bonnie and her parents take off in an RV for an end-of-summer vacation, along with Buzz, Woody, several of her toys, and her new favorite toy Forky. While Forky still doesn't understand the importance of being there for his "kid," the gang instills in him the duty of being a toy. He still wants to escape from the bonds of toydom.
Woody and Forky find themselves in the Second Chance antique store where Woody is reunited with Bo Peep, from the good old days. Bo was Andy's sisters toy and years earlier was discarded. The bond between Woody and Bo is strong, however Bo has been living as a lost toy and has had a different life than Woody. She has not had a kid for a long time.
In the antique store Woody and Forky encounter a doll that has never had a kid.  Gabby Gabby, is a cute doll that came off the assembly line defective. So she has spent her entire life, since the 1950s, without someone to love her. That is all she wants – to be loved by a child.
The escapades with all the toys – including some carnival toys – are fun.
The Blu-ray Combo Pack includes many bonus features that enlighten viewers about creating the characters and the scenes. Many of these bonus features are lessons in animation.
There is a nice little featurette about Buzz and Woody with their human counterparts Tim Allen and Tom Hanks. Spoiler alert: there are times in life when we have to say good-bye. This is the time for these two good friends who have experienced many escapades together over the last couple decades.
Also included are featurettes about some of the new characters including Gabby Gabby, Forky, Ducky and Bunny, and Giggle McDimples. Deleted scenes in storyboard form are also part of the bonus features plus much more.
With all the bonus features, the Blu-ray combo pack of Toy Story 4 is a must-have for fans of the franchise. It's packed full of fun and features and plenty of characters – old and new. This sentimental story will definitely be a film families will watch over and over.
Toy Story 4 is available on Blu-ray Combo Pack, DVD, and 4K Ultra Combo Pack. It's rated G for the whole family.
About the Author
Francine Brokaw has been covering all aspects of the entertainment industry for over 25 years. She also writes about products and travel. She has been published in national and international newspapers and magazines as well as Internet websites. She has written her own book, Beyond the Red Carpet The World of Entertainment Journalists, from Sourced Media Books, is the entertainment correspondent for Good Day Orange County, and has her own TV show, Beyond the Red Carpet, on Village Television in Orange County. Follow her on Twitter.