Tony Rome Double Feature on Blu-ray stars Frank Sinatra
Category:
Blu-ray's and DVD's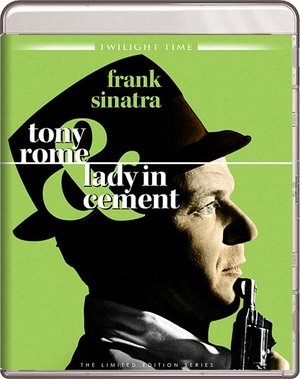 In 1967 Frank Sinatra stepped into the shoes of Miami private eye Tony Rome. This ex-cop is well connected and takes life rather casually. He lives on a boat and just goes about his business in a carefree style. But he always gets to the bottom of things, in his own way. So what if he has to bend the rules a little here and there? The bottom line is he is good at his job and he knows it.
The first movie in this franchise has Rome messed up in a family dilemma where people aren't who they seem. Or are they? Somehow, people end up dead when they're around Tony Rome.
After returning a young socialite to her family's house she tells him she is missing her diamond pin. Rome goes on the hunt through Miami for the missing pin but what he finds leads him to even more problems for the girl and her family. But Rome is not deterred. He follows the clues and the dead bodies until he finally solves the mystery of this family.
Nancy Sinatra sings the title song in this simplistic yet intriguing little film. Jill St. John, Richard Conte, Simon Oakland, and Gena Rowlands costar in this 60s style gumshoe movie with old blue eyes controlling every scene.
The following year, 1968, Sinatra returned as Tony Rome in the film Lady in Cement. This time Raquel Welch costars with Sinatra with Richard Conte returning as Police Lt. Dave Santini, Rome's homicide police buddy.
Rome discovers a dead woman with her feet buried in cement. Where does he find her? Deep under the water, while looking for buried treasure. This leads him to further intrigue, as usual.
The private eye is hired by a man to find her killer. This man, Gronsky (Dan Blocker), has a past of his own, so what is his endgame? Did he kill the woman? What Rome finds leads him through a web of deceit.
Nancy Sinatra doesn't sing the title song in this second film. The music is contemporary for the era with plenty of upbeat, "hip" songs and wardrobe.
The second film isn't as intriguing as the initial movie, however there are some fun parts. For instance, when Rome enters Gronsky's room he has Bonanza playing on the TV. Dan Blocker was, of course, Hoss in that hit TV series.
Unfortunately, Rome is framed for a murder in this story so while hunting for the real murderer, he also must evade the police, which includes his buddy the homicide lieutenant (Conte).
There is nudity in this film so it is not recommended for children.
The Twilight Time Tony Rome/Lady in Cement double feature is limited to 3000 copies.
About the Author
Francine Brokaw has been covering all aspects of the entertainment industry for 20 years. She also writes about products and travel. She has been published in national and international newspapers and magazines as well as Internet websites. She has written her own book, Beyond the Red Carpet The World of Entertainment Journalists, from Sourced Media Books.
Follow her on Twitter