Tom Hanks Talks about Playing Walt Disney
Category:
Movies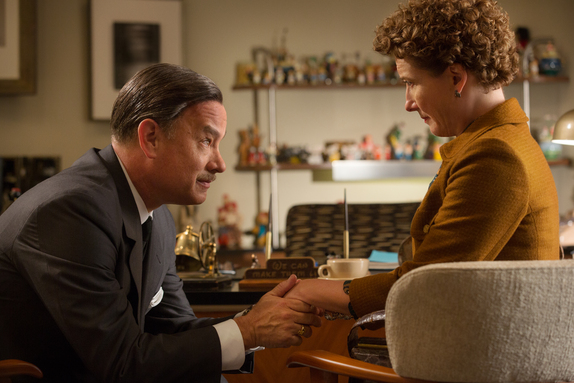 In the new film Saving Mr. Banks, Tom Hanks plays an iconic man – Walt Disney. The film is about Disney's quest to get the author of the Mary Poppins books, P. L. Travers, to agree to let the Disney Studios produce the film Mary Poppins. Most people would think that this would be a no-brainer, but as viewers discover, Travers wasn't too thrilled with the thought of Disney turning her beloved characters into a movie. Tom Hanks recently spoke to journalists about playing Walt Disney.
"There is a bit of a vocal cadence and a rhythm that Mr. Disney had that took a while to figure out," Hanks admitted. Walt Disney had a continual cough, because he smoked three packs a day. "You knew when Walt was coming to visit your office, 'cause you could hear him coughing from down by the elevator," Hanks said as he related anecdotes from those who knew the man. Things like this added to the way he played Mr. Disney.
Hanks also said that people who knew Disney came out of the woodwork to add their stories about the man. "Richard Sherman (one of the writers at Disney Studios and composer who is portrayed in the movie) was, a never-ending, literally, never-ending fountain of stories, of facts, of anecdotes, of bits and pieces of everything that had happened. And, Diane Disney Miller*, his daughter, gave me unlimited access to the archives and the museum in San Francisco. I made a couple of visits there. So I had a lot of video and audio that I could work with, …" Hanks was truly admiring of the dedication of Disney. "He completely embraced the possibilities of wonder in the movies that he was going to make as well as the rides he was going to come up with, and, the things that he was going to build. So I had a great road map" to help in playing the man.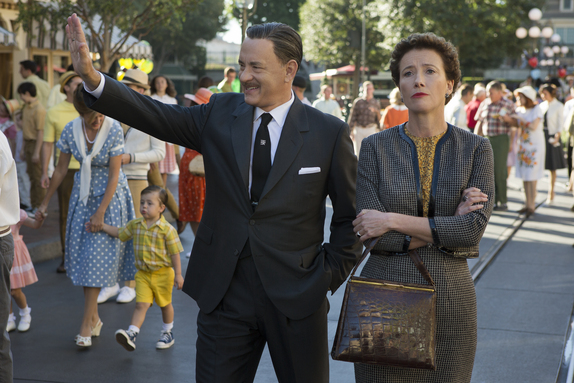 Hanks has two grandchildren who accompanied him to Disneyland when he filmed the scene in "The Happiest Place on Earth." Hanks joked, "They came, and an interesting thing happens as a grandparent that you see no reason whatsoever that your granddaughter shouldn't be delighted to take a ride on the Winnie the Pooh Adventure. It's Winnie the Pooh. It's fun. It's Pooh Bear. It's Kanga and Roo and Owl. It's Christopher Robin. It's gonna be a blast. She's gonna remember this the rest of her life, her ride on Winnie the Pooh's Great Adventure. My granddaughter was terrified by the noise, the big spinning bears. She is now haunted for the rest of her days by this first image of Winnie the Pooh in a loud, short, herky-jerky ride that her grandfather forced her to do on the day he played Walt Disney in Disneyland. That is just a sample of the fantastic job I do as a grandparent," he said with a façade of pride.
And in speaking about Disneyland, Hanks was truly impressed that it came to be because Walt Disney wanted a place for kids to spend time with their parents. "Disneyland itself came about because he used to spend every Saturday with his two daughters. And after a while, here in L.A., he ran out of places that he could take his two daughters. There [were] pony rides over where the Beverly Center is now, and there was the merry-go-round in Griffith Park, but after that, that was it. And he was sitting eating peanuts on a park bench in Griffith Park and the girls were on the merry-go-round, he said, 'God, there really should be place Dads can take their daughters on a Saturday in L.A.' And from that, Disneyland was born." Hanks was impressed with the entire story of the birth of the theme park, which is part of our society.
Tom Hanks stars as Walt Disney along with Emma Thompson who plays P.L. Travers in the story of Mary Poppins, P.L. Travers, and the strong dedication of Walt Disney. Saving Mr. Banks is a story of history, people, and commitment to beliefs and family.
*Since this press conference, Diane Disney Miller has passed away.
About the Author
Francine Brokaw has been covering all aspects of the entertainment business for 20 years. She also writes about technology and has been a travel writer for the past 12 years. She has been published in national and international newspapers and magazines as well as Internet websites. She has written her own book, Beyond the Red Carpet: The World of Entertainment Journalists, from Sourced Media Books.
Follow her on Twitter
Like her on Facebook