Tom Hanks and Dan Aykroyd in 'Dragnet'
Category:
Blu-ray's and DVD's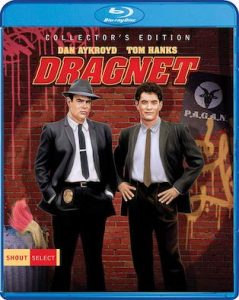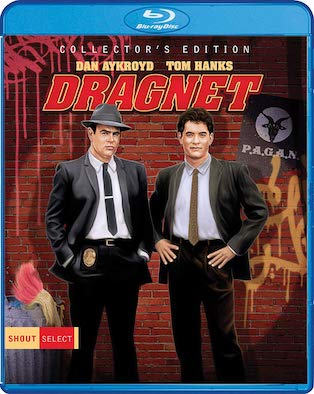 The Collector's Edition of the 1987 comedy Dragnet has Dan Aykroyd as Joe Friday's nephew, Joe Friday, and Tom Hanks as his new partner Pep Streebek. Friday is a by-the-book LAPD detective and Streebek is a hang-loose kind of guy. They are opposites but as they get to know each other they each conform a little to the other's way of life and police work.
Based on the hit TV series, this film also costars Harry Morgan as Captain Gannon. Morgan starred in the 1967-1970 TV series as Officer Gannon.
This new Blu-ray is a whacky far-fetched comedy with the LAPD after a gang known as P.A.G.A.N (People Against Goodness and Normalcy). They are ritualistic and ruthless. Their main focus is Jerry Caesar (Dabney Coleman), a Hugh Heffner-style character. What no one knows is that P.A.G.A.N. is in cahoots with Reverend Jonathan Whirley (Christopher Plummer), who is also in cahoots with someone else who will not be named here due to a spoiler alert.
Anyway, as the cops hunt down the leads in their unusual ways, they come upon a P.A.G.A.N. gathering where they are about to sacrifice a young virgin, Connie Swail (Alexandra Paul).
You get the picture. This is an over-the-top madcap comedy with the hairstyles and clothing of the 1980s.
Dragnet was a hit film in 1954 with Jack Webb as Sergeant Joe Friday. From 1967-1970 Webb and Morgan brought the characters to TV viewers. In 2003 a short-lived series starred Ed O'Neill as Lt. Joe Friday. There was another TV series in 1989-1991 minus Joe Friday. To say this theme has captured the hearts of TV and movie fans is an understatement.
The Dragnet: Collector's Edition includes some bonus features. A new interview with Alexandra Paul is interesting as she discusses her role in the film.
Dragnet: Collector's Edition from Shout Select is rated PG-13. There is nudity, drug use, and violence so it's not for young viewers.
About the Author
Francine Brokaw has been covering all aspects of the entertainment industry for over 25 years. She also writes about products and travel. She has been published in national and international newspapers and magazines as well as Internet websites. She has written her own book, Beyond the Red Carpet The World of Entertainment Journalists, from Sourced Media Books.
Follow her on Twitter