Tom And Jerry: The Lost Dragon DVD
Category:
Blu-ray's and DVD's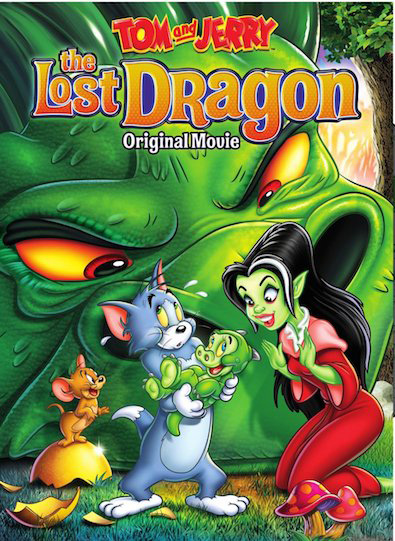 Get ready for an all-new animated film featuring everyone's favorite little mouse and cat. In this film, the duo face sorcery and evil, while trying to save a baby dragon. The Lost Dragon is a cute film for young viewers.
The story begins with the beginning. Tom is a kitten living with young Athena, the niece of the evil witch Drizelda. Drizelda is banished from the hamlet because of her dark magic, but Athena stays. She is a sweet girl whose love of animals is overwhelming. As a matter of fact, she just found little Jerry, a baby mouse, and she intends him to be Tom's best friend.
Now, several years later, Athena lives with a menagerie of animals and cares for them all, with the help of Tom and Jerry. Unfortunately, Drizelda is planning to return to the town, but she needs the dragon's egg that was recently laid by the mother dragon.
Athena and her brood discover the egg and it happens to hatch when Tom is caring for it. The baby dragon thinks Tom is his mother. Honestly, this dragon is the cutest little character I've seen in a long time. Athena names him Puffy, and she tries to keep him hidden from the townsfolk.
Well, things get ugly when Drizelda returns to take the baby dragon, and then when the mother dragon comes looking for her baby, things really get intense. However, in the end, the baby is safe and sound, and finds his real mother.
The movie has some musical numbers and some fun animal characters, including a cute donkey and a clumsy warthog.
The bonus features include four bonus Tom and Jerry episodes. There is also an activity booklet included with this DVD, which is age appropriate for 3+.

Tom and Jerry: The Lost Dragon is not rated.
About the Author
Francine Brokaw has been covering all aspects of the entertainment business for 20 years. She also writes about technology and has been a travel writer for the past 12 years. She has been published in national and international newspapers and magazines as well as internet websites. She has written her own book, Beyond the Red Carpet The World of Entertainment Journalists, from Sourced Media Books.
Follow her on Twitter
Like her on Facebook