'Tom and Jerry: Back to Oz' DVD GIVEAWAY
Category:
Giveaways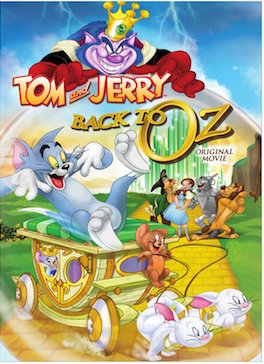 Tap your heels together three times and prepare to journey over the rainbow once again, for another delightful adventure with the cantankerous cat and the mischievous mouse in Tom and Jerry: Back to Oz. The Wicked Witch of the West may have been defeated but it's not long before a new villain emerges and threatens the magical Land of Oz! Only Tom and Jerry's brilliant antics are clever enough to take on this new adversary.
When the Gnome King and his army surface from beneath Oz and capture the Good Witch, the wizard turns to Tom, Jerry and Dorothy for help. He brings them back to Oz to help stop the evil monarch, who has threatened to take control of Emerald City. Having wreaked havoc throughout Oz, the Gnome King and his army need one thing to finalize their conquest – Dorothy's ruby slippers! It's up to Tom and Jerry to use their quick wits and clever schemes to save Oz. Dorothy's cherished friends, the Lion, the Tin Man, the Scarecrow and her little dog Toto too, join in their valiant efforts. Will the Gnome King take over Emerald City or will Tom and Jerry's hilarious hijinks save the day? The result is a rip-roaring, fun-filled, magical adventure Tom and Jerry fans won't want to miss!
We have some DVDs to giveaway.
To be eligible to win a copy of Tom and Jerry: Back to Oz, email us at [email protected] with "Tom & Jerry Giveaway" in the title. Please supply your name, address, phone number and email address (so we can let you know if you are a winner).
The deadline for this giveaway is June 17, 2016.