To Sir, With Love on Blu-ray
Category:
Blu-ray's and DVD's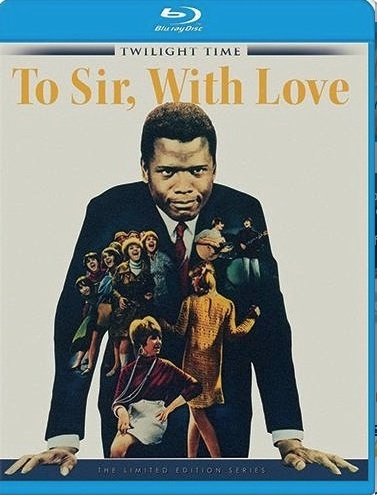 Twilight Time has just released a limited edition Blu-ray of the classic film To Sir, With Love. This movie is one of three movies in 1967 with Sidney Poitier, the others being In the Heat of the Night and Guess Who's Coming to Dinner. All three have become classic films and each one has a storyline that transcends the years.
In To Sir, With Love Poitier stars as an idealistic teacher who tackled a group of high-spirited students. While not a teacher by profession, Mark Thackeray (Poitier) discovered he does have what it takes to tame this unruly bunch of white students in London's East End. His patience, understanding, and compassion were the key.
The title song became a hit on the radios and top seller in record stores. For this new generation, a record store was where we went to purchase albums of our favorite songs! The score was nominated for a Grammy in 1968, and the film won the Laurel Award for "Sleeper of the Year." While those in Hollywood didn't feel the movie would have much appeal, they were proven wrong. The story is attractive and interesting to viewers young and old.
Sometimes bonus features on a disc are just as interesting and entertaining as the film itself, and this is the case with this release. The movie was taken from a biography by E.R. Braithwaite however, as he says in a very informative bonus feature, if all you know of his experience teaching in London is what you've seen in the film, then you don't know anything. Braithwaite is a very interesting man who was born in Guyana and went to London for his education. He joined the Royal Air Force in World War II and after the war he needed a job. He was offered a job teaching in London's East End. That part of the movie is true. But there is much more to this man and his experience, as viewers will learn.
Another bonus is about Lulu, who is "introduced" in this film as one of the students and who sings the title song. She was already a recording artist when she was cast and talks about how the song shot to the top of the charts in America. Another bonus looks at the 1960's fashion, styles, and pop culture. London was the place where "mod" was born, and this is a fun little feature about the culture as well as Sidney Poitier. And yet another bonus looks at how the film finally got produced.
To Sir, With Love is a movie with charm and is an enduring story. While the fashions, hair, and some ideals have gone out of style, a good movie never does. And, after viewing this new Blu-ray edition, you might want to pick up a copy of the actual book on which it was based.
As the lyrics say, "Sir" as his students called him, was "a friend who taught me right from wrong." To Sir, With Love is not rated, however it is not suitable for very young kids. Teens and above are fine.
About the Author
Francine Brokaw has been covering all aspects of the entertainment business for 20 years. She also writes about technology and has been a travel writer for the past 12 years. She has been published in national and international newspapers and magazines as well as internet websites. She has written her own book, Beyond the Red Carpet The World of Entertainment Journalists, from Sourced Media Books.
Follow her on Twitter
Like her on Facebook