Time Lapse on DVD
Category:
Blu-ray's and DVD's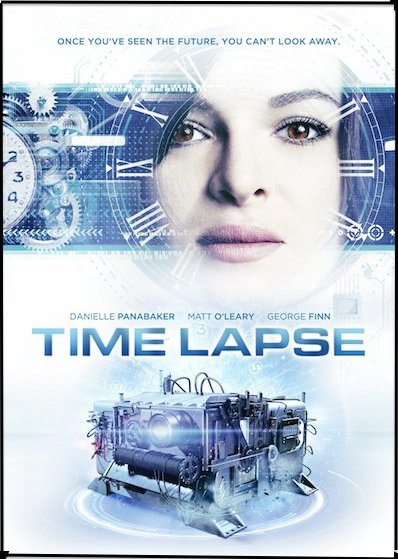 Danielle Panabaker, Matt O'Leary, and George Finn star in Time Lapse, a sci-fi movie about three people who find a camera that takes pictures of their future. The three friends discover knowing what will happen in the future is both exciting and unsettling.
Callie (Panabaker) and her boyfriend Finn (O'Leary) share an apartment with their friend Jasper (Finn). Callie is an aspiring writer currently working as a waitress to pay the bills. Finn is an aspiring painter who is currently finding it difficult to concentrate on his canvases. And Jasper is a low life gambler with no scruples and lots of drugs.
When they discover a camera that takes Polaroid photos of their apartment they are concerned. Then they see the photos are of the future. They also find the creator of the camera dead in the storage room of the apartment complex. But instead of calling the police they decide to use the information about their future for personal gain.
The trio discovers that knowing what happens in the future can also tear apart their present. The tension and disturbing images of what is about to happen to them threatens Callie and Finn's relationship. And Jasper's arrogance raises the curiosity of his bookie.
The film is often confusing and viewers probably won't find themselves invested in the characters, who are not appealing in any way. The premise, however, is interesting. What would you do if you knew what the day ahead held in store for you? Do you feel it is possible to change your destiny? That is what the trio must wrestle with every day when they see the image of what is about to occur.
The bonus features include deleted scenes and a look at how the story and film was created.
Time Lapse is not rated however it is not suitable for children due to an abundance of violence and drug use.
About the Author
Francine Brokaw has been covering all aspects of the entertainment business for 20 years. She also writes about technology and has been a travel writer for the past 12 years. She has been published in national and international newspapers and magazines as well as internet websites. She has written her own book, Beyond the Red Carpet The World of Entertainment Journalists, from Sourced Media Books.
Follow her on Twitter
Like her on Facebook