Tim Tebow for Fox TV's "Home Free"
Category:
Television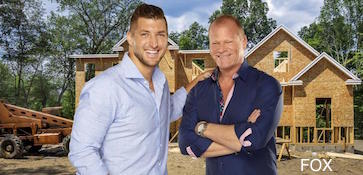 Reality television has become a battleground of petty quarrels, in-house alliances, and back-biting. Offering a reprieve from the nonsense, along with a generous dose of altruism and inspiration the second season of Fox-TV's Home Free premiers June 16, 2016.
Produced by the folks from Extreme Makeover: Home Edition, the formula has been changed slightly from last year's summer run. For starters, quarterback Tim Tebow has been brought in as cohost with Atlanta-based builder Mike Holmes, and the contestants are participating to win one of the refurbished homes for their personal heroes, be it a parent, mentor, a good Samaritan who donated a kidney, or a war hero in Afghanistan. What contestants were unaware of at the onset of their commitment is that none of their designated "heroes" will walk away empty-landed.
Promoting the series, the Heisman Trophy winner Tebow participated in a recent press conference. Excerpts of that session follow, beginning with what drew him to the production.
"I think when I really began to understand the stories, and how the contestants really had a chance to change the lives of the heroes, I think that's what really gripped me. To really understand the narrative of it, it's people loving and sacrificing for other people to make a difference in their live. When I heard that I knew it was something that would be a lot of fun to be a part of," said Tebow.
What does he hope people will take away after watching the series?
"I think people are going to watch it, and they're going to see that it's probably the biggest build show America's ever seen. So if they like building, it has a lot of that. It has so much competitiveness, really fierce competition. It's obviously got its fair share of drama, but I think, more than anything I want them to take away that it can be cool to be able to love and sacrifice for other people.
"I personally believe that it's more blessed to give than to receive. Whether it's your money, your time, your energy, your effort, whatever it is, it's worth it. People need help, and they need hope. Sometimes that's as little as a hug, and sometimes it can be as much as giving away a home. That's something that it shows every single week in the series," he explained.
While the 28-year-old two-time national champion and first round NFL draft pick readily admits, "I'm not a builder," Tebow concedes, "One of the things I tried to do was help all of the contestants, believing in them and supporting them, giving encouragement and sometimes a pat on the back."
At a time when daily media reports highlight the very worst in human behavior, Tebow feels Home Free is the perfect antidote. "This seems like this is a perfect time for this show. It can possibly inspire a lot of people and one that families can watch together.
"There are a lot of heroes walking around amongst us, and so many times that don't get thanked. They don't get supported, and what they do goes unnoticed. I think that this show really tried to thank them and say, we appreciate what you've done, and the sacrifice. That might be someone just helping cancer patients get out of bed every day and go for a walk, or it could be our military saving people on the battlefield. There's such a wide spectrum."
On the subject of heroes, who are Tebow's own personal choices? His father, Robert Tebow II, and mother, Pamela, definitely qualify as heroes for their commitment to the Biblical principles they so avidly embrace.
While serving as Baptist missionaries in the Philippines, Pamela contacted amoebic dysentery and lapsed into a coma, prior to her pregnancy. On the mend, she discovered she was pregnant. The medicines used to treat her illness resulted in fetus severe placental absorption. The prognosis was grim. Doctors predicted that her baby would be stillborn. Refusing the physicians' advice to undergo an abortion, she hung on and the perfectly healthy Tim entered the world on Aug. 14, 1987 in Manila.
Sharing his parents' values, Tebow established the Tim Tebow Foundation, which strives to fulfill the dreams of terminally ill youngsters, along with building Timmy's Playrooms in children's hospitals. The college football analyst for SEC Network also sponsors a Night to Shine nationwide prom for people with special needs.
As a follow-up to his 2011 bestselling memoir Thought My Eyes, the sequel Shaken will be released in the coming months.
About the Author
Winnie Bonelli is a former entertainment editor for a daily metropolitan New York City area newspaper. She is passionate about movies and television and loves to take readers behind the scenes.