Thumper theme for babies
Category:
Activities, Performances, & Events
Category:
Parenting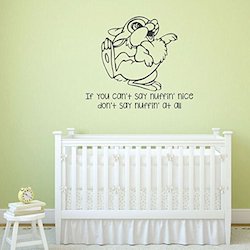 These days young moms and dads select specific themes for their nurseries and their babies. Here is an idea that incorporates a cute character an makes your little bundle of joy a little snuggle bunny. Thumper is an ideal character for a nursery theme.
There are plenty of wall stickers to decorate the room. Thumper and Bambi wallpaper and wall stickers are abundant. Just check Amazon for what you need. A soft paint palette and a couple stickers instantly transform your plain nursery into a sweet little bunny patch.
Now, for your own little snuggle bunny, Disney has a large assortment of items to dress your baby and accessorize your new addition to match his nursery!
Baby Shower Gifts
The Thumper Gift Set includes a romper, slippers, hat (with bunny ears), and a plush carrot. This is a great gift for a baby shower even if the nursery isn't Thumper-themed. The romper features a cute stitched image of Thumper with the words "Hello little bunny." It comes complete in a box ready for gifting. ($34.95)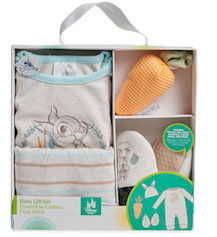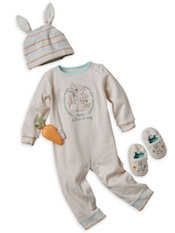 Another cute idea is the Thumper Bib Set. This set includes two bibs, one with Thumper hopping around, and one with his adorable little face. ($12.95) And anyone who loves bunnies cannot go wrong getting a Thumper Plush Blankie. This is so sweet with a soft blanket with a soft plush head and arms attached right onto the snuggly blankie. ($12.95) And a Thumper Plush Rattle ($9.95) will not only entertain baby with the adorable soft bunny, but also delight him with the soft jingle jangle.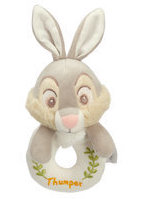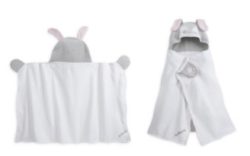 The Thumper Plush Musical Pull is a cute way to dress up a crib. Under the plush bunny's head is a plush carrot that can be pulled down. After being pulled, the music box inside softly plays "Twinkle, Twinkle Little Star." It just might be the perfect way to put baby to sleep. ($19.95) And a set of three Thumper Soft Blocks for Baby each incorporate different sounds: crinkle, bell, and rattle. This set will probably be one of those items that baby holds onto (literally and figuratively) for a long time. ($19.95)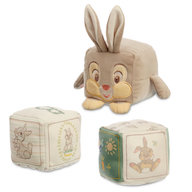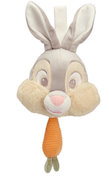 After his/her bath, wrap baby in a soft velour and terry towel with a plush hood. ($24.95) And a larger hooded bathrobe is just what baby needs for evenings before going to sleep. ($29.95) This robe fits over the Thumper Pajama set. Baby will be snuggly and cuddly in the PJs and robe for evening with the family. ($26.96) The robes, like many of the items, can be personalized with baby's name. And add the Thumper Plush Slippers ($14.95) and baby has the perfect nighttime ensemble.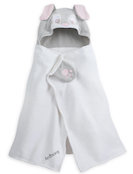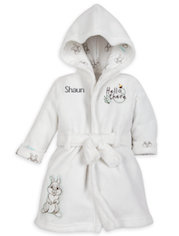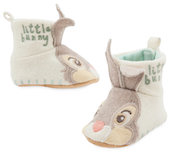 Dressing Baby
Disney also has plenty of outfits for your little bunny. The Thumper Overall Set includes a cute onesie with screen art images of Thumper and a separate jumper with a plush Thumper applique on the front bib pocket. In a sense, this is two outfits in one. The onesie bodysuit can be worn by itself, and then the overalls can easily be added for this fashion ensemble. After all, why can't baby be as stylish as his mom? ($29.95)
A simple bodysuit features Thumper peeking out behind a row of stripes. ($14.95) This is a separate item, however it matches perfectly with the jumper set, so you can have two onesies to go with the romper. Add the matching two-pack Thumper Socks ($7.95) and baby will be coordinated from head to toe.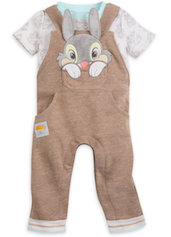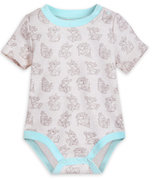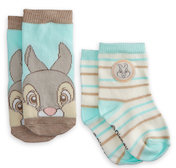 A one-piece Hooded Romper makes dressing baby for a stroll in the park easy and stylish. If it turns a little breezy, simply pull on the hood and baby's ears will be protected from the wind, not to mention with the ears on the hood he will be your own little bunny. ($19.95)
Playing around the house, baby will be comfy in the Thumper Character Romper, made of soft plush. The hood features little Thumper's head and with the attached footies baby is as snug as a bug in the rug. ($29.95)
The Thumper Two-Piece Knit Set is a soft and warm outfit for cooler days. Images of Thumper adorn the top and pants of this sweet outfit. ($34.95)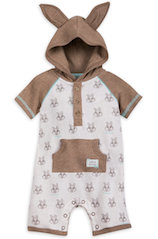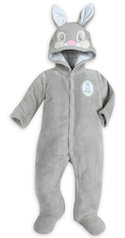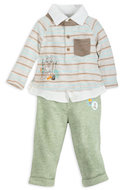 Little Extras
A super soft plush Thumper makes a great first friend ($14.95). And add the cute resin figure to a shelf along with some Thumper themed books ($5.95-$8.95) and your baby is set.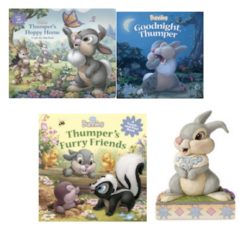 This is just one way to encompass a theme for baby's first years. Thumper is an adored character that has been loved by generations of fans. If you prefer another character, check out the Disney website for more ideas to make a themed nursery with matching ensemble.
About the Author
Francine Brokaw has been covering all aspects of the entertainment industry for over 20 years. She also writes about products and travel. She has been published in national and international newspapers and magazines as well as Internet websites. She has written her own book, Beyond the Red Carpet The World of Entertainment Journalists, from Sourced Media Books.
Follow her on Twitter