Three Classic Peanuts Movies on DVD
Category:
Blu-ray's and DVD's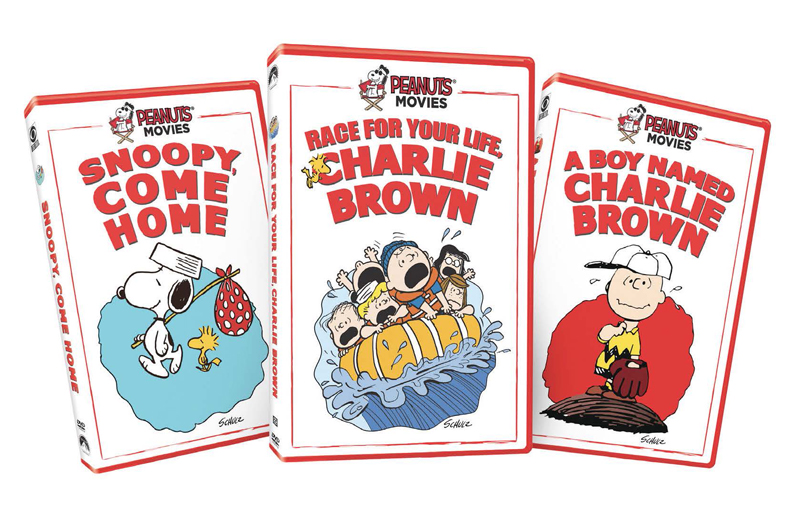 That adorable Peanuts gang is irresistible. And now there are three full-length features available on DVDs to enjoy the gang any time you want. We all have our favorite Peanuts kid. Who's yours – Charlie Brown, Lucy, Linus, Schroeder, Sally, Peppermint Patty, Marcie, Franklin, Pigpen, Rerun, Violet, Sherman, Patty, Frieda, Woodstock, or Snoopy?
Race for Your Life, Charlie Brown (1977)
Race for Your Life, Charlie Brown is available on DVD for the first time ever. This fun story follows the gang as they go off to camp. Everyone is eager to experience the great outdoors, except for Sally. Camp Remote is a shock to everyone. Franklin doesn't want to wake up at the required 5 am time, and he is upset there is no thermostat in the tent! Sally hates every part of the camp, Peppermint Patty decides she is going to lead her fellow tent-mates and rule by ballots, and Charlie Brown wants to learn leadership qualities while at the camp. The gang not only has to face the rigors of camp life, but also the three bullies who "rule" the camp.
When it comes time for the Big Rafting Race, it's the bullies against the team of Charlie Brown, Linus, Franklin, and Schroeder (who insists on taking his piano on the raft), the team of Peppermint Patty, Lucy, Sally, and Marcie, and the team of Snoopy and Woodstock. Who do you think will win?
There are some very cute Peanuts moments throughout the entire movie, and some sentimental ones as well. Don't be surprised if you reach for a tissue when little Snoopy thinks Woodstock is lost forever.
Race for Your Life, Charlie Brown is rated G for everyone.
A Boy Names Charlie Brown (1969)
A Boy Named Charlie Brown was the first big-screen film. Charlie Brown, Linus, Lucy, Snoopy, and the gang go to New York and the National Spelling Bee. This is filled with plenty of great Peanuts situations as well score that was nominated for an Oscar as well as a Grammy.
Charlie Brown has all the grief he can stand – with his kite problems as well as never winning at baseball. But he manages to win the class spelling bee. Finally something good is happening to him. But can he keep it up through the national spelling bee?
A Boy Named Charlie Brown is rated G for everyone.
Snoopy Come Home (1972)
Snoopy Come Home is a sweet Peanuts movie with an Academy-Award nominated score. Poor little Snoopy is confronted by "No Dogs Allowed" signs everywhere he goes. He's used to going anywhere he wants, but these signs are impeding on his life. Then he gets a letter from his former owner who is in the hospital. Snoopy takes off with his friend Woodstock to visit the sick little girl. When Snoopy feels he should move back with the girl, the Peanuts gang realizes how much the little beagle has meant to them.
This is a sweet, sentimental, endearing little movie. What would the world be like without Snoopy? Sad and tearful. But, don't worry. Snoopy realizes where he belongs – with Charlie Brown, of course!
Snoopy Come Home is rated G for everyone.
About the Author
Francine Brokaw has been covering all aspects of the entertainment business for 20 years. She also writes about technology and has been a travel writer for the past 12 years. She has been published in national and international newspapers and magazines as well as internet websites. She has written her own book, Beyond the Red Carpet The World of Entertainment Journalists, from Sourced Media Books.
Follow her on Twitter
Like her on Facebook