This Property is Condemned on DVD
Category:
Blu-ray's and DVD's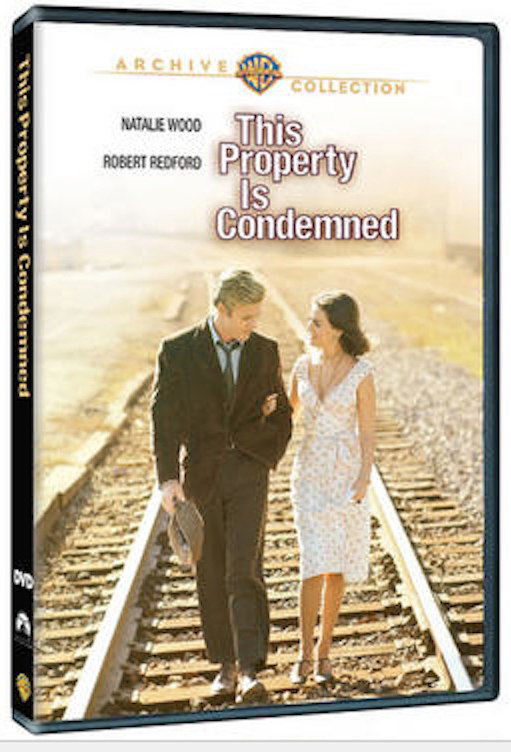 Natalie Wood and Robert Redford star in this 1966 screen adaptation of the Tennessee Williams play. Wood stars as Alva Starr, the sixteen-year-old flirt who is described as the "main attraction" in the small, depressed Mississippi town of Dodson. Her mother Hazel Starr (Kate Reid) runs the boarding house and is as big a flirt as her daughter, but doesn't have the looks.
Dodson's main income is from the railroad, so when Owen Legate (Robert Redford) comes to town with the assignment of shutting down the railroad in Dodson, he is not met with the best manners of the townsfolk. With the railroad taken away, the town will just about disappear.
Owen takes a liking to Alva, and vice versa. But it is Hazel who calls the shots. So when Alva wants to leave the depressing little community with Owen, things get messy. Alva has dreams of the big city, and Owen can take her there. But a confluence of circumstances combines to thwart her desires.
When Alva eventually reconnects with Owen, all is right with their world and the future looks bright for the star-crossed lovers – until Hazel finds them.
If you know Tennessee Williams at all, you know that his stories are not bright and sunny. This is definitely a depressing story to go along with the depressing little town of Dodson. Wood makes it enjoyable, however. She is beautiful and full of spirit.
Natalie Wood was nominated for a Golden Globe. Without her, the film would not be what it is. It would still be dark and depressing, but she has a special spark that carries it along from start to finish.
Charles Bronson, Dabney Coleman, Robert Blake, Jon Provost, and Mary Badham (of To Kill a Mockingbird), add to the cast. The character of Alva Starr is well known in literature. She is one of those standout characters whose sad life has captured the attention of the public.
This Property is Condemned is part of the Warner Archive Collection and is available from their site at www.wbshop.com. Student of literature and those who are fans of Tennessee Williams will undoubtedly enjoy this expanded film version of the one-act play.
About the Author
Francine Brokaw has been covering all aspects of the entertainment business for 20 years. She also writes about technology and has been a travel writer for the past 12 years. She has been published in national and international newspapers and magazines as well as Internet websites. She has written her own book, Beyond the Red Carpet: The World of Entertainment Journalists, from Sourced Media Books.
Follow her on Twitter
Like her on Facebook