This is Where I Leave You on Combo Pack
Category:
Blu-ray's and DVD's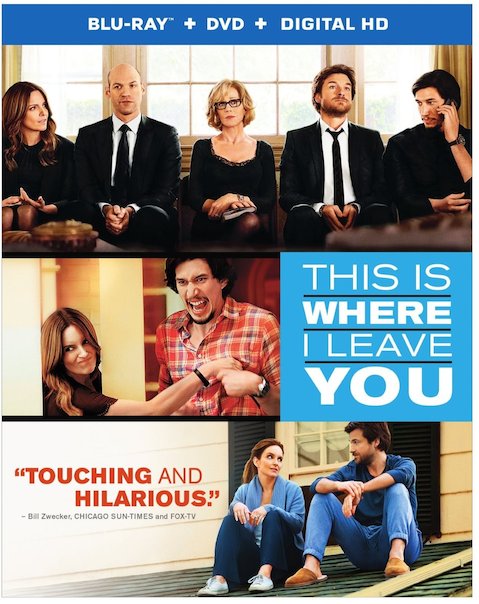 The ensemble film This is Where I Leave You is reminiscent of the 1983 ensemble movie The Big Chill. Jason Bateman, Tina Fey, Adam Driver, and Corey Stoll star as siblings with Jane Fonda playing their mother. The siblings, along with their spouses, children, and significant others gather in the family home to mourn the loss of the family patriarch. They are together for a week to "sit Shiva," the Jewish tradition of taking the week to reflect after a passing.
While together for the week, the relationships between the family members and their childhood friends is put under a microscope for the viewers, with some funny consequences, however, this is more of a drama than a comedy. It's an emotional journey for everyone.
While reconnecting with each other and figuring out some of their past mistakes, the family encounters several interesting dilemmas. Each person is dysfunctional in his/her own way, and the family unit is definitely dysfunctional, to put it mildly.
Rose Byrne, Kathryn Hahn, Connie Britton, Timothy Olyphant, Dax Shepard, Debra Monk, Abigail Spencer, and Ben Schwartz add to the ensemble cast.
The combo pack includes a DVD, a Blu-ray, and a Digital HD download code. There are some fun featurettes as well as deleted and extended scenes on the Blu-ray. The film is also available in a single DVD.
While critics and audiences have praised This Is Where I Leave You, those who remember The Big Chill might think it doesn't measure up to that hit film of the past. I thought there were some cute scenes in this film, however I'm partial to The Big Chill and that ensemble. Both films delve into the relationships between a group of people who gather after a death and reflect on their lives. Among a group of talented actors, the standout in this film is Jane Fonda. The veteran is a consummate actor and in this role she shows her comedic as well as her dramatic talent.
This is Where I Leave You is rated R for language, sexual content and some drug use.
About the Author
Francine Brokaw has been covering all aspects of the entertainment business for 20 years. She also writes about technology and has been a travel writer for the past 12 years. She has been published in national and international newspapers and magazines as well as internet websites. She has written her own book, Beyond the Red Carpet The World of Entertainment Journalists, from Sourced Media Books.
Follow her on Twitter
Like her on Facebook