They Shall Have Music DVD
Category:
Blu-ray's and DVD's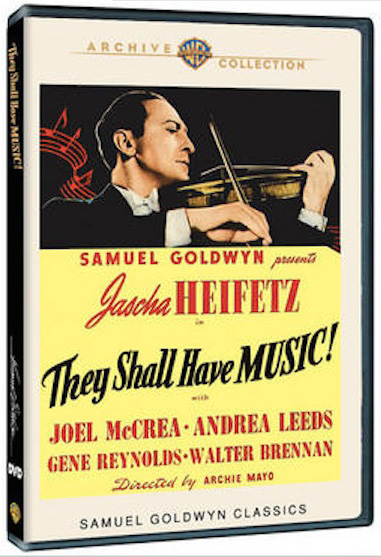 Anyone who loves music and appreciates the talent of musicians will enjoy this movie. They Shall Have Music is a music-filled story featuring the great Jascha Heifetz.
When Frankie (Gene Reynolds), a juvenile delinquent, hears Jascha Heifetz play, his life is changed forever. Heifetz stirs the music within the boy and soon Frankie is spending his time playing his deceased father's violin instead of hanging out with his gang of young thugs. His stepfather has other ideas and insists the boy goes to reform school.
Frankie runs away and finds the Lawson School of Music where he is welcomed and his musical talent is encouraged and enriched. The school caters to kids from poor families, with donations of instruments and very little tuition. But when Mr. Flowers (Porter Hall), who has been loaning his instruments to the school, suddenly demands his payment or else he will take them all back, there is trouble ahead.
The only way the school will be able to survive is with the help of Jascha Heifetz. But how can Frankie and his friends convince Mr. Heifetz to help them? Maybe taking his $70,000 Stradivarius (today worth millions) might get his attention.
Anyone who has a musician or a budding musician in his/her family will enjoy the story and the wonderful music. The movie was for an Academy Award in 1939 for Best Music Scoring. Andrea Leeds, Joel McCrea, and Walter Brennan also star in the film. The Peter Meremblum California Junior Symphony is featured as the student body of the Lawson School of Music.
This 1939 movie is not rated but is suitable for everyone. And even considering it is in black and white, any young musician in the house will be riveted by the film. It's truly a fine story with amazing music and wonderfully talented young musicians. And it's a treasure to see Jascha Heifetz. This movie is truly a little gem.
They Shall Have Music is part of the Warner Archive Collection and can be ordered from their site at www.wbshop.com.
About the Author
Francine Brokaw has been covering all aspects of the entertainment business for 20 years. She also writes about technology and has been a travel writer for the past 12 years. She has been published in national and international newspapers and magazines as well as internet websites. She has written her own book, Beyond the Red Carpet The World of Entertainment Journalists, from Sourced Media Books.
Follow her on Twitter
Like her on Facebook