'The Yakuza' on Blu-ray
Category:
Blu-ray's and DVD's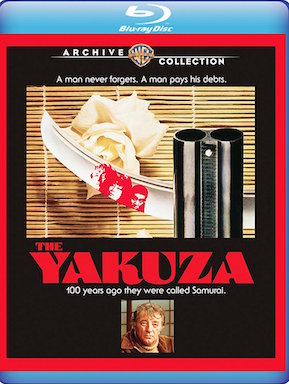 Robert Mitchum stars in The Yakuza, a 1974 film about the Mafia-style gangsters that run the back streets of Japan. Harry Kilmer (Mitchum) was stationed in Japan after the war. He knows his way around the country and he knows how the gangs work. He also knows the culture.
Kilmer left Japan years ago and has made his living as a private investigator. One day he is contacted by George Tanner (Brian Keith), an old friend who tells him a Japanese gang kidnapped his daughter because he owes them some money. Kilmer feels he must help Tanner. He travels to Japan where he reunites with several old friends – including his Japanese girlfriend and her daughter – and enlists the help of her brother Tanaka Ken (Ken Takatura) in his effort to find the missing girl and set things right with the gang leader.
Things go wrong. People are killed. Kilmer and all his friends are in danger. This is an eye for an eye community. Plenty of action and underlying dramatic stories involving past relationships bubble up to the surface.
As the body count keeps rising, it is unsure who will survive. Whether killed by swords or bullets, there are plenty of dead bodies piling up. Originally not wanting to disturb The Yakuza, Kilmer ends up being hunted by them. The Japanese mafia will find him and kill him. But will he and Ken be able to survive or are The Yakuza more powerful and cunning?
The Japanese culture is interesting to watch as Kilmer gets further entangled in their system and with their people. Honor is important to this culture. How can he successfully go up against them?
Robert Mitchum brings sensitivity to this role. As he quietly maneuvers through Japanese society, he basically manages to fit in and understands who must be included in negotiations and what must be done to end the killings. But can he do it?
The Yakuza is part of the Warner Archive Collection. It is available from their website.
The Yakuza is rated R. it is bloody and not intended for young viewers.
About the Author
Francine Brokaw has been covering all aspects of the entertainment industry for over 20 years. She also writes about products and travel. She has been published in national and international newspapers and magazines as well as Internet websites. She has written her own book, Beyond the Red Carpet The World of Entertainment Journalists, from Sourced Media Books.
Follow her on Twitter