The World of Suzie Wong on DVD
Category:
Blu-ray's and DVD's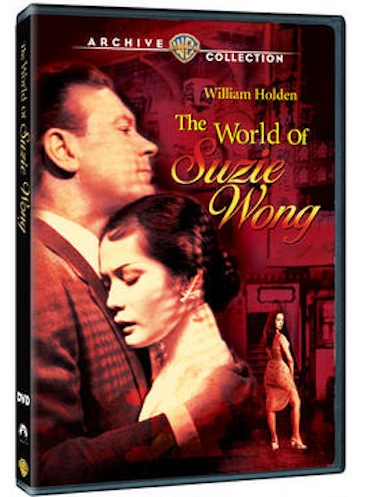 Okay. I admit it. I have a secret crush on William Holden so it was no wonder I wanted to see this movie. The World of Suzie Wong highlights the appeal of Holden in the character of Robert Lomax, an architect who takes a year off to see if he can make it as an artist. To do this, Lomax moves to Hong Kong and immerses himself in the local culture.
Instead of renting an apartment in a nice part of town, Lomax finds a little room in a rundown hotel in an area filled with bars and prostitutes. He makes friends with one of the "girls" and hires her to pose for him. It's a professional relationship. All he wants from her is to capture her on canvas. She immediately thinks she is to pose in the nude, but he has no interest in that. He wants her inner soul to emerge on the canvas through his brush.
Suzie Wong is played by Nancy Kwan who turns in a wonderful performance as the prostitute who falls in love with Lomax and becomes possessive of him. He knows she needs money to support herself and can only afford to pay for her as a model. Unfortunately, she must subsidize her income with her other job, which bothers Lomax who is falling in love with her as well.
This is not a movie for young kids. It is long (2 hours 6 minutes) and filled with plenty of adult drama. Having been produced in 1960 it is dated, yet the performances of the two stars add to the enjoyment of this dark romance.
As stated earlier, William Holden's onscreen charm and appeal fill the story in contrast to Kwan's character of a woman who wants to improve her social standing but also has a fragile heart when it comes to Lomax.
This was Nancy Kwan's first film role. Her second feature film was the next year in the Rogers and Hammerstein musical Flower Drum Song. Holden's film career started in the late 1930s and continued until his death in 1981.
The World of Suzie Wong is part of the Warner Archive Collection and is available from their website www.wbshop.com.
About the Author
Francine Brokaw has been covering all aspects of the entertainment business for 20 years. She also writes about technology and has been a travel writer for the past 12 years. She has been published in national and international newspapers and magazines as well as Internet websites. She has written her own book, Beyond the Red Carpet: The World of Entertainment Journalists, from Sourced Media Books.
Follow her on Twitter
Like her on Facebook