The World of Henry Orient on Blu-ray
Category:
Blu-ray's and DVD's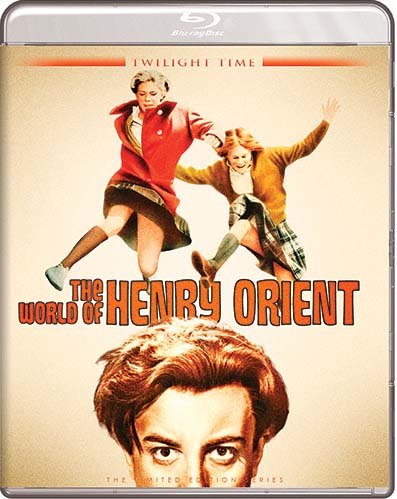 Nominated for the Best Motion Picture Musical/Comedy at the 1965 Golden Globes and named one of the Top Ten Films in 1964 by the USA National Board of Review, 'The World of Henry Orient' introduced two young girls to movie audiences. Tippy Walker and Merrie Spaeth star as Val and Gil in this fun story of a pair of 14-year-old "practically adolescent" girls who meet and form a lifelong friendship.
This quirky story has the two rambunctious teens traipsing all over New York City following a man who has unwittingly stolen the heart of young Val. Henry Orient (Peter Sellers) is a lothario pianist who has captured the attention and interest of the two girls. They make it their mission to find out everything they can about this eccentric man. Their imaginations and outgoing personalities fuel their lives and their quest for all things Henry Orient. They even wear Asian style hats as they gallivant around the city. After all, Henry's last name is Orient so what is more appropriate than that?
While they are stalking Mr. Orient, their personal lives also take a primary role in this little film. Gil's mother (Phyllis Thaxter) offers Val the parental guidance and support the girl doesn't have with her absent parents (Angela Lansbury and Tom Bosley). And Henry's womanizing is yet another side story ending in what is a sensitive and turning point in Val's life.
As Val and Gil bumble their way around town, they leave a wake of confusion and suspicion. These two girls are whacky yet they possess a sweet innocence that makes them loveable.
The film has been highly praised and provided a landmark teen movie for the time. This was and is a beloved story that invokes the fun of childhood combined with the convergence into adulthood.
'The World of Henry Orient' is now available in a limited edition of 3,000 Blu-ray from Twilight Time. It can be ordered at www.screenarchives.com. With these two playful girls, a great performance by Sellers, and a wonderful score by Elmer Bernstein, the movie is well worth viewing. To put it bluntly, it's just plain fun.
'The World of Henry Orient' is not rated.
About the Author
Francine Brokaw has been covering all aspects of the entertainment business for 20 years. She also writes about technology and has been a travel writer for the past 12 years. She has been published in national and international newspapers and magazines as well as internet websites. She has written her own book, Beyond the Red Carpet The World of Entertainment Journalists, from Sourced Media Books.
Follow her on Twitter
Like her on Facebook