The Wind and the Lion on Blu-Ray
Category:
Blu-ray's and DVD's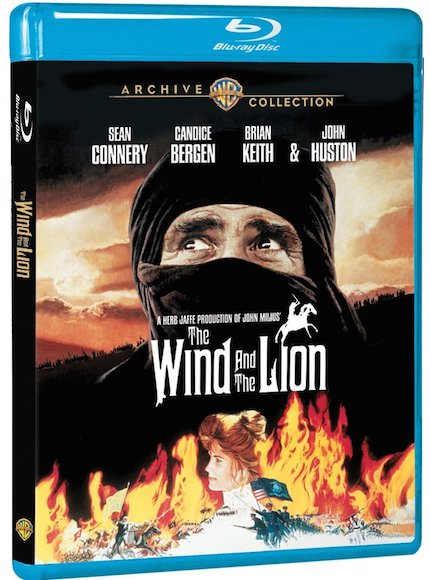 Sean Connery, Candice Bergen, Brian Keith, and John Huston star in this 1975 movie filled with drama and action. The Wind and the Lion is loosely based on an actual incident. The characters were changed for this film, and Hollywood took a great deal of liberties with the story. However there was an American citizen and his stepson who were taken and held captive.
The film altered the storyline. The year is 1904. An American widow is living in Morocco with her two young children. They are kidnapped by a Berber tribe in a brutal attack that leaves their friends and household staff dead. This incident forces President Theodore Roosevelt to act to protect American citizens wherever they live.
Candice Bergen plays Eden Pedecaris, the mother of the two children. Sean Connery is Mulai Ahmed er Raisuli, the head of the Berber tribe and the man keeping Eden and her family captive. Raisuli demands a high ransom for the family. His intention is to create an international incident and bring attention to the corruption in the region. Brian Keith is Teddy Roosevelt, and plays the president with gusto and delight.
The music by Jerry Goldsmith is the best part of the movie. Goldsmith was nominated for an Academy Award for "Best Original Dramatic Score." The music in The Wind and the Lion rivals those in Lawrence of Arabia and Gone with the Wind. Goldsmith was also nominated for a BAFTA and Grammy for this score.
The bonus feature on the Blu-ray takes viewers behind the scenes as they filmed a great battle scene. "The stuntmen work hand in hand with the special effects men." This is the only way to keep everyone safe while at the same time creating an intense scene that audiences enjoy watching.
The beautiful soundtrack aside, viewers might not be comfortable with the story considering what is currently happening in Africa – and Nigeria specifically. Kidnapping and violence is a way of life in this region and this movie brings up the fact that not a lot has changed in the region over the past century.
The Wind and the Lion Blu-ray is part of the Warner Archive Collection and is available from their website at www.wbshop.com. The movie is rated PG.
About the Author
Francine Brokaw has been covering all aspects of the entertainment business for 20 years. She also writes about technology and has been a travel writer for the past 12 years. She has been published in national and international newspapers and magazines as well as internet websites. She has written her own book, Beyond the Red Carpet The World of Entertainment Journalists, from Sourced Media Books.
Follow her on Twitter
Like her on Facebook